Customer

Huawei Technologies Switzerland AG

Completion Date

2020

Form Of Contract

KBOB

Area

1.200 m2

Program Duration

8 weeks

Architect

Studioforma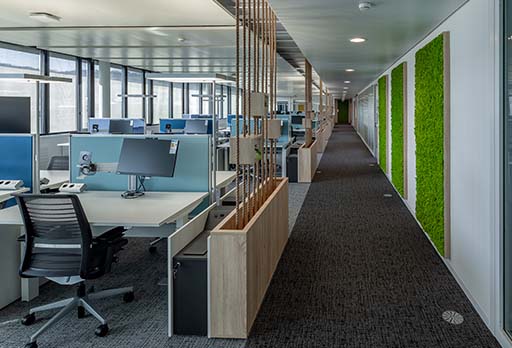 Introduction
Huawei Technologies is an international leading provider of information and communications technology (ICT) infrastructure and smart devices. According to Huawei the company employs over 190,000 people worldwide, and
operates across 170 countries around the globe.
Huawei's Swiss branch comprises of three main locations in Liebefeld, Dübendorf (greater Zurich area) and Lausanne combining a total number of approximately 300 employees in Switzerland.
In course of Huawei's planned office modification in Dübendorf, the company looked for an efficient full-service general contractor who would be responsible for the execution planning and overall management and implementation of the office refurbishment. At the same time, the project had to be completed within a constricted schedule of only two months.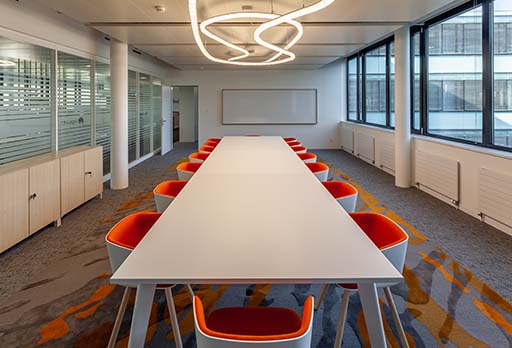 The project
UISG was awarded the design & build contract to manage and implement the 1,200 sq m fast track office modification in Huawei's office in Dübendorf. The 1.05 million CHF project involved fit out works across two floors, including two office units and a business zone on the 4th floor as well as a showroom on the 5th floor. The scope of work for the new office space included:
Execution planning
Electrical works
Adaptation of circulation and air conditioning
Ceilings and new flooring
Customized joinery works
Glass partition walls
Installation of lighting
Partition walls
Cabling of IT and AV
Wooden cladding, whiteboards, and moss panels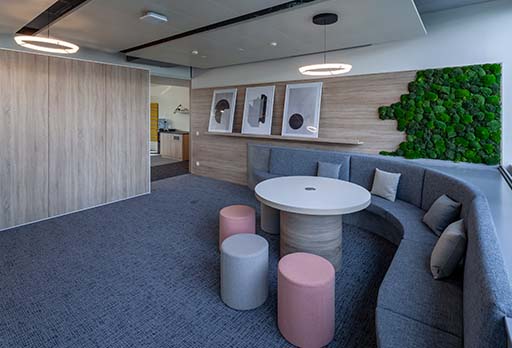 Added value
After an ambitious construction schedule of approximately 8 weeks, ISG managed to deliver a modern office environment on time incorporating larger open office areas, executive office rooms, break out / lounging areas, several meeting rooms, printing areas, a business zone as well as a Huawei exhibition area on the 5th floor of the premises.

The new office environment stands out through its modern decoration, warm colours, natural elements such as an abundance of moss panels throughout the entire office space, thus not only providing for communicative office layout, but also promoting well-being and collaboration among Huawei's employees.
In addition to meeting the condensed construction timeline, the client placed equal importance on quality as seen through the premium joinery and glass wall installations throughout the office. With Huawei Technologies Switzerland AG, ISG delivered for another leading technology company in Switzerland and continues to fortify its expertise in design and build in Central Eastern Europe (CEE). Above all, the project was completed on time and handed over to a fully satisfied client.

"As a responsible employer, Huawei highly values a stimulating and healthy work environment. When employees feel comfortable in their world of work, they are more motivated and committed. We all benefit from this equally. The design, lighting, infrastructure and materials chosen, delivered and implemented by ISG create exactly the atmosphere that sparks creativity and cooperation among our employees. We were impressed by how well ISG understood our needs and met them during a challenging time." 

Pauline Yuan, Head of Administration, Department at Huawei Switzerland