The new post-COVID world of work – Co-working space Oper46 in Frankfurt
In the middle of the Corona pandemic we realised the Oper46 project in the heart of Frankfurt for The Office Group (TOG), which is one of the leading flex office providers worldwide. Special challenges during the project were changes in plans due to the pandemic and a very tight time schedule. But once again we succeeded in creating ultra-modern and comfortable office worlds in the best location. In our interview TOG manager Warren Margolis explains why Oper46 is setting new standards for the post-Covid era.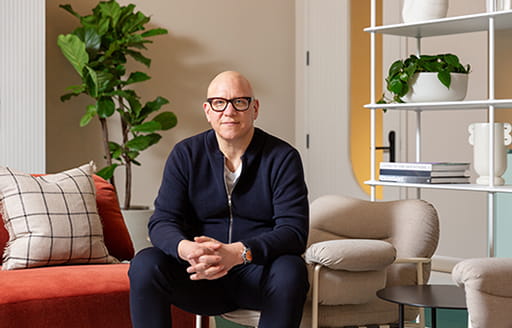 ISG: Mr Margolis, the pandemic has not stopped you from building around 6,700 square metres of co-working space in the middle of Frankfurt together with ISG. How are the pandemic consequences reflected in Oper46?
Margolis: In order to provide safe workplaces during the Corona pandemic, we made numerous adjustments early on. In addition to disinfection stations and anti-bacterial wipes in all work spaces and stricter cleaning requirements for high traffic areas, we have improved the quality of our air filtration systems, increased the supply of fresh air and restricted air circulation within our buildings. In addition to physical health, TOG also focuses on the mental health and well-being of our members through a holistic approach. From a building perspective, we make sure to incorporate and weave nature and biophilic design into TOG Work Spaces. To do this, we integrate living plants and green spaces into our buildings and also provide opportunities and spaces throughout the platform that support rest and regeneration.
ISG: Besides pandemic prevention and new work concepts, it is sustainability criteria that offices should fulfil. How sustainable is Oper46 as a typical TOG project?
Margolis: We take sustainability into account with our partners as early as the construction process: in addition to the reuse of existing elements, a careful selection of sustainable materials is of great importance. In doing so, we prefer high-quality and durable materials that can be recycled to minimise the frequency of replacement and maximise the use of materials. In addition, our architects and designers pay attention to optimising the use of materials during planning in order to produce as little waste as possible. Therefore, construction drawings always note where which residual material is produced and where it can be reused elsewhere, if necessary. Specifically, we encourage the choice of building materials that have a low impact on the environment (including sequestered carbon) throughout the life cycle of the building. Where possible, we avoid the use of composite materials and anything that is glued, veneered or laminated. For wood, we look for the FSC label and preferably use reclaimed or sustainably sourced wood products from local production.
ISG: Let's move away from the building and into the space and its users: how do you manage to bring people into offices like Oper46 in times of the established home office?
Margolis: Co-working spaces and offices in general must have their own touch that reflects the regional environment. Neighbourhoods, buildings, styles, historical context, environment and location all matter to us. We approach each work space in a different way, taking inspiration from the historical, cultural and local characteristics of each location. This means that the original context of the property is always evident – be it through the design details, artwork or interior design.
ISG: Every office building thrives on creative builders and competent executors. How can the right building partners be found for such narrowly defined concepts as those at TOG?

Margolis: We select our construction partners through tenders. Good value for money is very important to us, but it is not the only requirement. Successful cooperation in construction requires a partner who is flexible to respond to TOG's demanding requirements. He must also be a creative problem solver who presents us with solutions rather than problems. Like us at TOG, he must share the same attention to detail and passion for creating high-quality spaces for our clients.