Singapore's soaring financial sector: unveiling new developments and bright prospects.
Singapore, the Lion City, is considered to be a safe haven to the ultra-rich and wealthy, especially with its strategic positioning in Asia and its forward-thinking infrastructure. Singapore remains an attractive destination for wealth preservation and diversification, with inflation expected to decline in 2024, and international visitor arrivals poised to more than double from 2022 levels.

Compared to neighboring countries, Singapore was successful in taking the right measures during the pandemic, which contributed to a faster recovery towards pre-COVID figures and performances. To further its economic prosperity, supported by its tax friendly approach, Singapore had a favorable investment ecosystem leading to a significant influx of wealth from Asia and other countries. In April this year, authorities raised taxes on private property purchases including doubling stamp duties for foreigners in an attempt to cool residential property market and manage demand.

ISG's outlook in the financial sector
The country's reputation as a financial services hub attracted global investors to establish their headquarters to service Asia. Singapore has over 132 banks only 6 of which were local banks adding to that over a thousand of capital markets services licensees in Singapore. The banking and financial sector play a key role in the country's economic well-being, and as a thriving sector it created opportunities for businesses across different sectors to benefit from. In which ISG Singapore has successfully delivered many outstanding workspaces to numerous international financial firms.
Just recently ISG won a major retrofit project for a world class market exchange at its central building and satellite offices. The scope includes overhauling and elevating the quality of their offices, marketplace, media broadcast centre, front of house including audio visual, and digital infrastructure upgrades. The new space will be an example for sustainable office retrofits in the financial sector, proving how an existing workspace can be redeveloped into an energy efficient space, whilst improving the wellbeing of employees and visitors.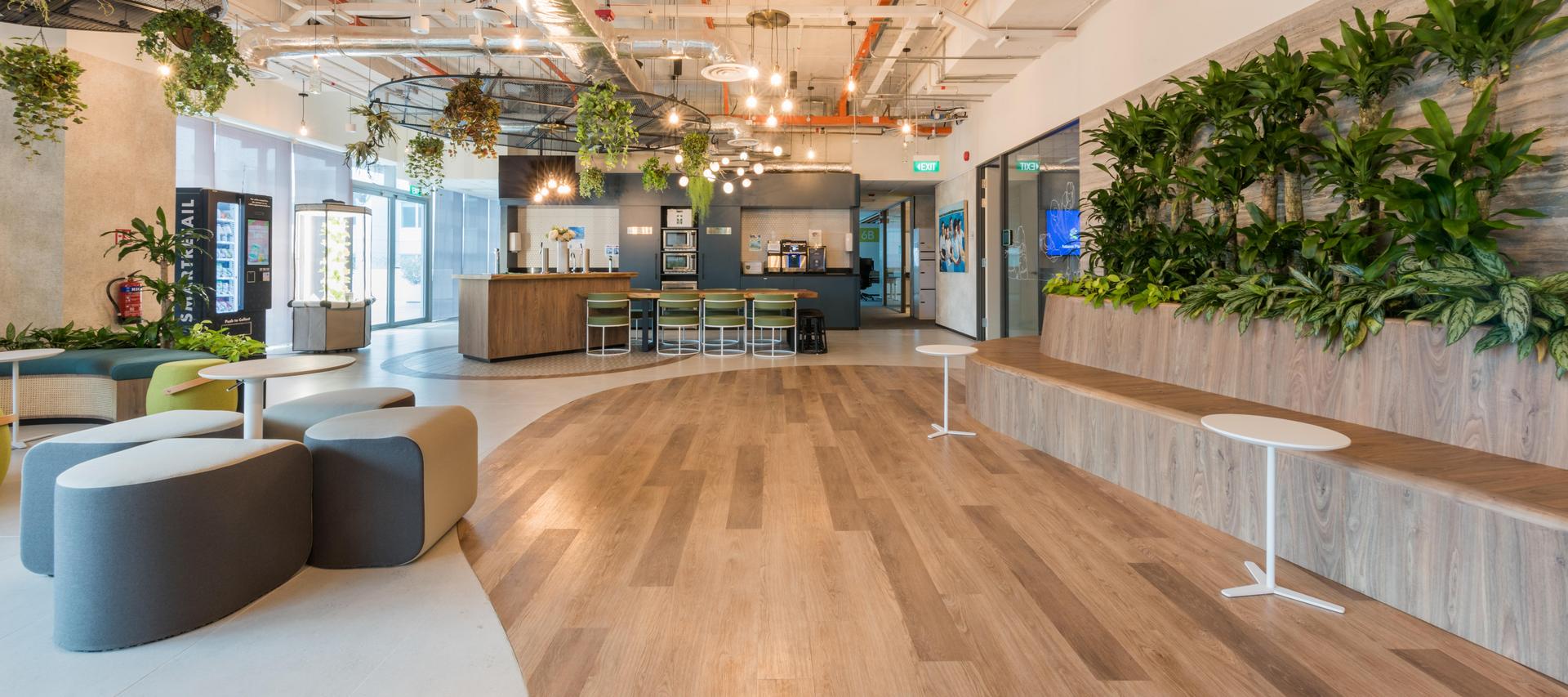 Standard Chartered Bank in Singapore has been a long-standing client for ISG, who delivered few projects including its campus at Changi Business Park. Recently ISG was awarded and successfully refurbished the offices to one of the largest Japanese financial and banking institutions in the financial district including its satellite offices in other areas. Other clients included Morgan Stanley, Citibank, Westpac and other financial service companies within Marina One Bay Boulevard just to name a few.
Singapore plans to overhaul the financial services sector by 2025 to support its fight against climate change and will be mobilizing capital to support sustainable financing and green fintech. This strategy will open doors to new investments and refurbishments of office space to comply with the country's 2030 Green Plan. ISG has since initiated digitalizing processes with new tools to incorporate improved methodologies in construction, to support all efforts to build a sustainable environment and economy.