Customer

XFusion Technologies Pte Ltd 

Procurement Route

Design & Build

Area

6,459 sq ft 

Program Duration

8 Weeks

Architect

ISG Ltd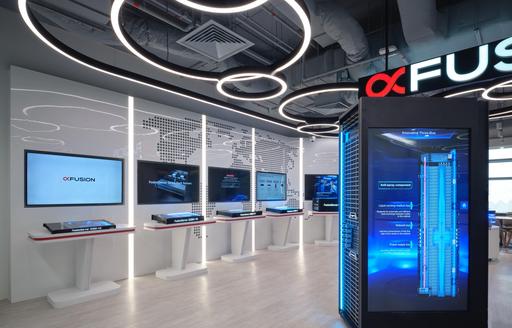 Introduction
The international digital firm chose ISG for their 6,459 sqft workspace and showroom design and build project in Singapore. The project featured state-of-the-art installations at the Mapletree Business City.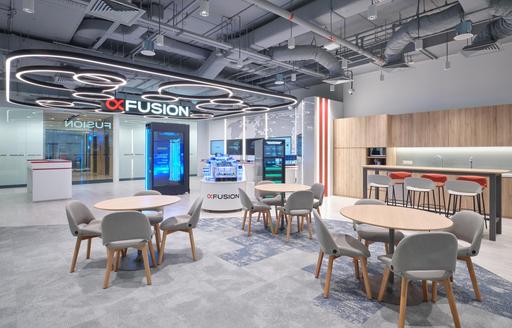 The project
This project included a design and build scope, and our design team at ISG in Singapore delivered exceptional designs reflecting the client's brand, ethos and vision. The showroom and reception area's featured wall is all LED lit and finished with acrylic laminate and glossy decal of a vectored world map, to highlight the client's global network and presence.
The display stands at the front of the feature wall are used to showcase the client's high-end chipsets, each weighing over 25kg. Our design team at ISG has taken considerable and intricate approaches to design a stand that can both hold the weight of the chipsets, yet also convey a sleek and high-tech vibe.
The circular layered linear lighting of the showroom revolves around xFusion's signage ensuring a vibrant and well-lit showroom to welcome visitors and partners in a youthful and playful atmosphere.
The X Factor
A unique design element in the showroom space is the Giant 'X' feature wall. While it is a bold component in the design, it transitions the space smoothly into the pantry area which is an open space for guests and staff to enjoy.
The boardroom is separated from the rest of the space by an operable wall system, where the glazing is kept clear to give a sense of openness while ensuring privacy and convenience.
The staff office space is designed to be bright and minimalist to ensure comfort, efficiency and productivity to the team.