Hilton Singapore Orchard wins industry awards

Since launching in February this year, Hilton Singapore Orchard has scooped up numerous awards for its cutting-edge meeting and event facilities delivered by ISG, and exceptional interiors that pay homage to Singapore's botanic and cultural heritage.
ISG worked with interior designer, Avalon Collective to successfully delivered careful structural and refurbishment works behind the new front of house spaces at the Level 1 and 5 reception areas (The Elements), and interconnected meeting and events facilities (Smart Oasis) at Hilton Singapore Orchard - the largest Hilton flagship hotel in the Asia Pacific region.
Bringing Avalon Collective's design language to life
2022 Best of Globe Winner | Singapore | Shaw Contract Design Awards 2022
"A consistent design language pervades the entire property, and through its spirit, the new Hilton Singapore Orchard tells a tale of history and regeneration – bridging the past and the present, providing the guests a multi-sensory experience." - Shaw Contract Design Awards
With almost 600 entries from 44 countries, the Shaw Contract Design Awards celebrates the optimism of design and its ability to influence our everyday lives.

Read more about the project here.
Best New Meetings Hotel in Asia | 2022 Meetings & Conventions Asia Stella Awards
"A testimony to the great collaboration between all the individuals that brought this amazing hotel to life 6 months ago. As the largest Hilton hotel in Asia Pacific, Hilton Singapore Orchard is a compelling new destination for MICE in the heart of Orchard Road with category-leading meetings and events offerings." - Hilton Singapore Orchard

At Level 5 of Hilton Singapore Orchard, ISG converted a former carpark into a full-fledged facility for meetings and events through detailed additions and alteration works. Hilton Singapore Orchard now boasts 16 versatile event spaces, along with two pillarless ballrooms. Themed the 'Smart Oasis', the interconnected space is ideal for business meetings or mid-scale corporate seminars for up to 185 guests with seven separate conference rooms and breakout spaces.

M&C Asia Stella Awards honors excellence in Asia Pacific's meetings industry with a total of 22 awards across six different categories presented as a recognition of outstanding achievements, immense dedication, commitment and innovation to the industry.

Meeting rooms are named after local trees such as Tembusu, Mahogany, Ficus and Rhu, and are equipped with the latest audio-visual technology including immersive LED screens for hybrid meetings and screenings.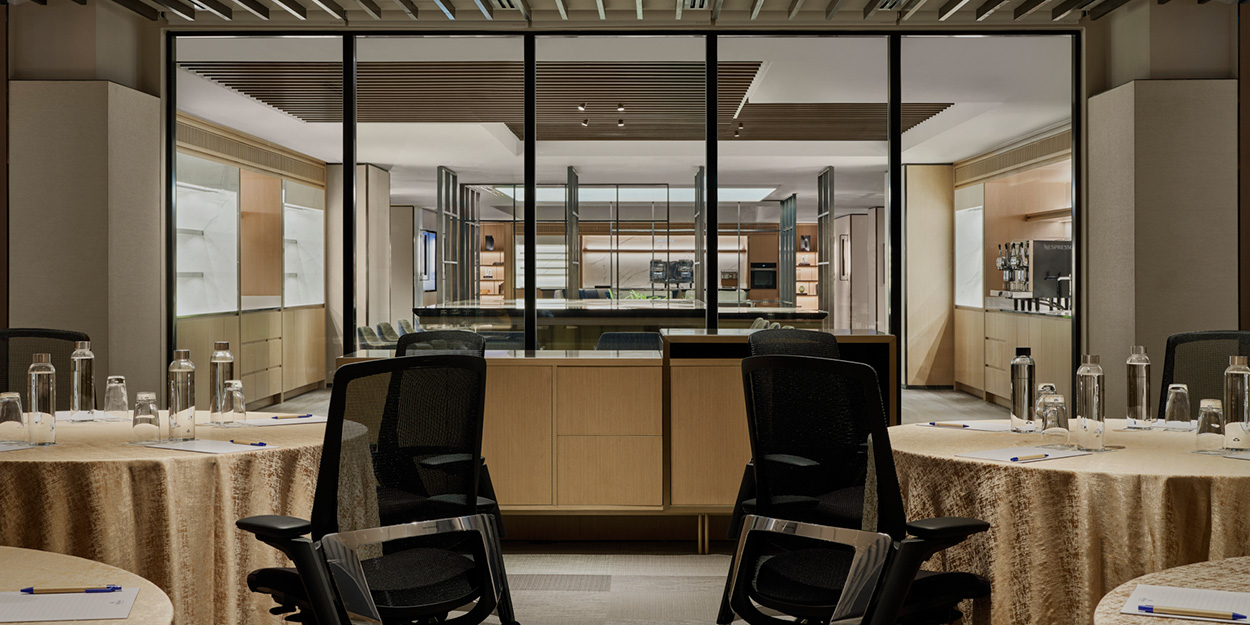 "Hilton has always upheld a strong sustainability agenda, and we believe in carrying out our 2030 goal to 'travel with purpose' and to redefine sustainable travel"

Cedric Nubul, General Manager, Hilton Singapore Orchard
Hilton Singapore Orchard occupies the premises of a 51-year-old building, formerly the Mandarin Orchard and is certified Green Mark Gold by the Building and Construction Authority in Singapore.
More about the redefined MICE spaces here