Customer

OUE Limited

Procurement Route

Traditional

Completion Date

February 2022

Quantity Surveyor

Arcadis Singapore Pte Ltd

Form Of Contract

SIA

Structural Engineer

KTP Consultants Pte Ltd

Area

19,000 sq ft

Architect

DP Architects Pte Ltd, Avalon Collective Pte Ltd (ID)

ME Engineer

Meinhardt (Singapore) Pte Ltd
ISG has successfully delivered highly complex structural, and refurbishment works behind the successful rebranding of the former Mandarin Orchard to the new Hilton Singapore Orchard.

Central to the $150 million facelift is the extensive renovation to the hotel's grand visitor entrance facing Ngee Ann City at Level 1, the comprehensive expansion of the hotel's exterior façade across multiple floors, the newly built hotel reception area at Level 5, and enhanced event and meeting facilities designed for touchless connectivity - all delivered by ISG in progressive stages while working in a live hotel environment with continuing visitor flow and occupancy.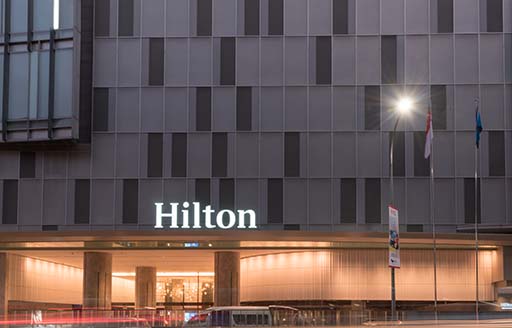 Expansion of exterior façade through precise reengineering
While creating a raised ceiling for the grand visitor entrance at ground level and building a new seven-storey fire safety staircase into the side canopy, reengineering works and additional fiber wrap was done to all concrete slabs to satisfy stringent structural safety and operational requirements.

At the same time, a new integrated steel façade design with a flowing glass and aluminum canopy was specially built to wrap around Hilton's newly refurbished interiors from level two to seven and the new side fire safety staircase. The façade includes measured open windows integrated into the overall design, providing scenic outside views and ventilation to users of the staircase.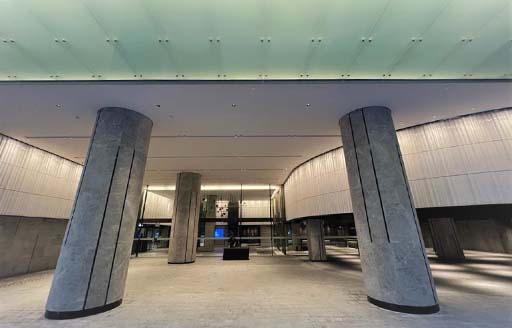 Creating a raised, dignified entrance
As part of the facelift, ISG worked closely with OUE limited and Hilton to create a majestic visitor entrance that encompasses a raised high-ceiling, an expansive drive-through and drop-off area that stretches seamlessly into the refurbished lobby reception at Level 1.
Major structural works successfully completed include the removal of a ceiling slab at Level 2 to raise the ceiling of the drop-off area, installation and finishes of a 6m round column with custom-made curved marble, reaching up to the buffer ceiling with premiere stainless-steel cladding.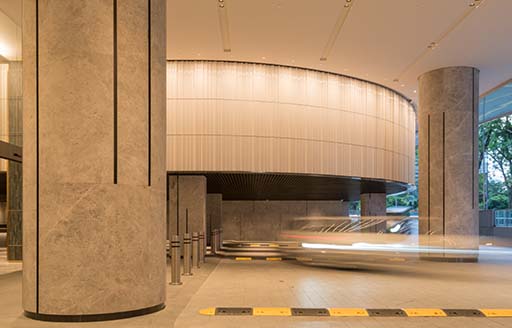 ISG also installed a highly engineered steel structure support with a specialised bracketing system behind the surrounding imported terracotta wall panels that runs 4m high and connects seamlessly to the ceiling, creating an imposing entrance perfectly fitting for Hilton's discerning clientele.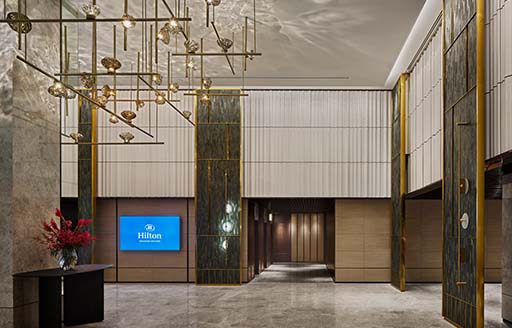 A grand lobby awaits at Level 1
To ensure adherence to Hilton's quality standards, and branding design requirements, ISG refurbished the expansive lobby with double-volume ceiling works completed with the installation of a custom-made chandelier. Terracotta wall panels, custom wallpaper, classic modernist finishes, and new shopfront glass and automatic doors lend an air of opulence to the space.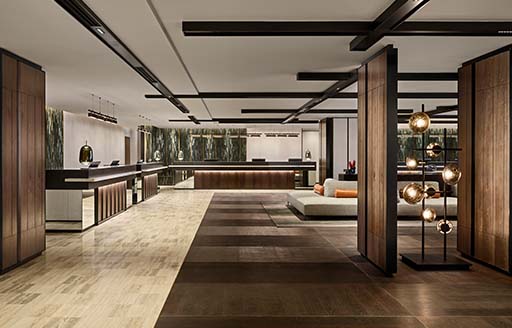 An all-new check-in experience at Level 5
To create the luxe hospitality experience afforded by the Hilton brand, ISG delivered major Additions and Alterations (A&A) work to transform part of the existing carpark space into a plush hotel reception area at Level 5. The space conveys elegance and warmth through thoughtful finishes including custom-made floor standing lights from Italian luxury lighting brand, Lasvit, imported Italian marble to match existing travertine marble flooring, and recycled engineered timber flooring.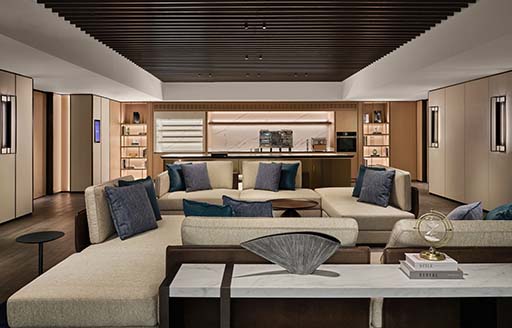 Unparallel connectivity and comfort for business events
As part of the facelift, ISG converted half of the previous car park space at Level 5 to additional event and meeting rooms facilities, enabling Hilton Singapore Orchard to provide cutting-edge MICE services with a holistic business environment. The interconnecting communal breakout lounge and 6 meeting room spaces are equipped with high acoustic installations, extensive soundproofing, additional perforated wall panels.
The key challenge resolved by the team was in applying a solutions-based approach to creating as much floor-to-ceiling space as possible for occupants while installing extensive M&E services within a low ceiling height of 2.55m.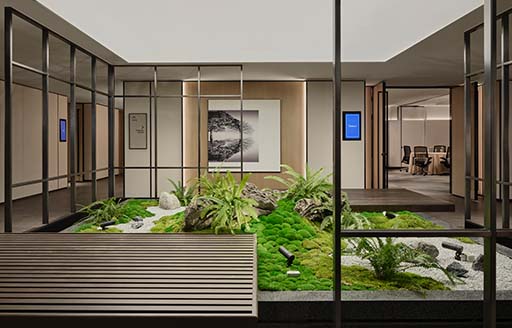 A green and energy-efficient space for all
Business meeting and event facilities were meticulously refurbished to blend seamlessly with the elements of nature. A barrisol stretched ceiling provides smooth and measured lighting, nurturing the natural moss miniscape at the center of interlinked meeting facilities.
An energy-efficient carbon monoxide detection and extraction system was also installed while the team upgraded the fire safety plan from Level 1 to 7. Live monitoring of carbon monoxide levels would prompt the system to be automatically activated to extract excess carbon monoxide and pump clean air into the multi-storey carpark.
The extensive refurbishment project completed in February 2022 has enabled the Hilton Hotels & Resorts group to set a new defining benchmark for unparalleled hospitality experience in Singapore's renowned shopping district, making Hilton Singapore Orchard a destination where style, comfort, and functionality intersect.
See more of the new Hilton Singapore Orchard via their official website
here
.