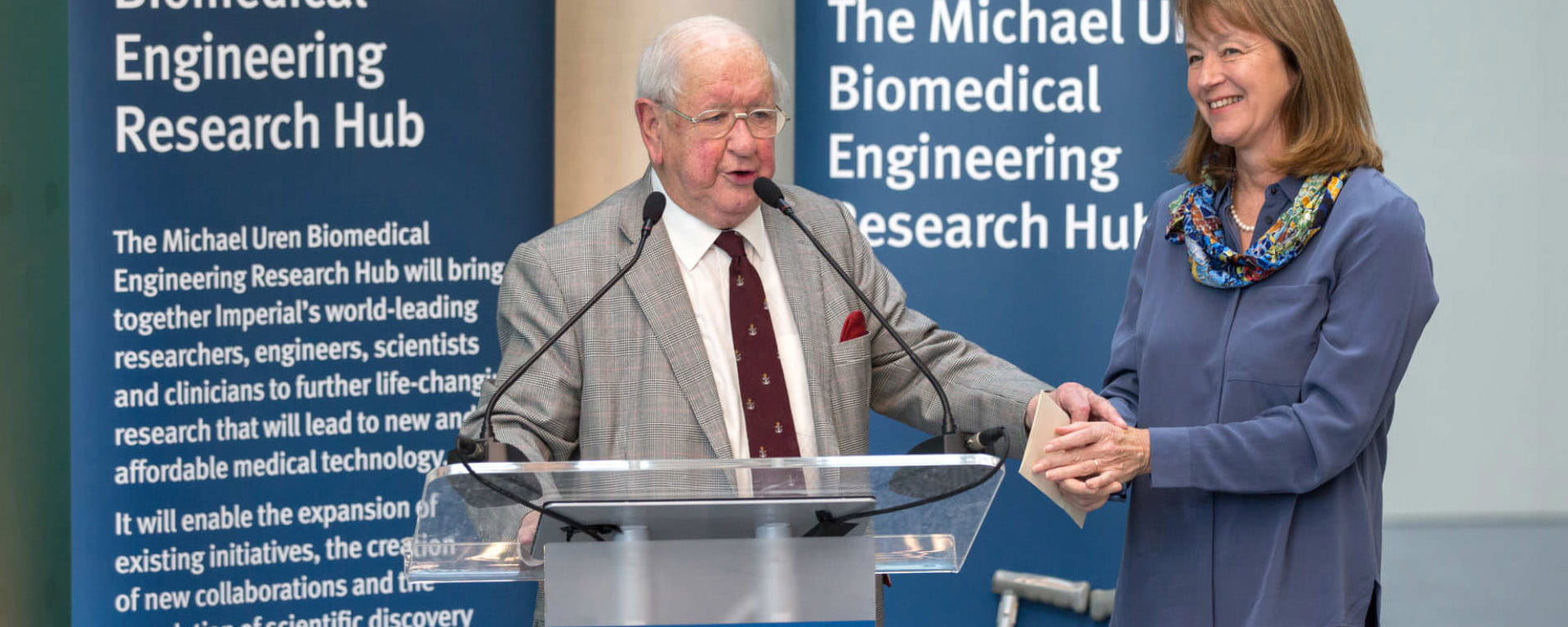 Cementing a legacy.
Seventy-five years ago, a young Michael Uren was a keen Mechanical Engineering student at Imperial College London. Fast-forward a few decades, and his life's work has secured a legacy that will live on forever.
Sir Michael was renowned for his tireless charity work, but a passion for engineering never left him, and his own sustainable cement substitute now forms the foundations of the Sir Michael Uren Hub at his former university – a project funded by the benefactor's extraordinary £40m donation, and delivered by ISG. Opened in 2020, Imperial College London's new facility will cement a space for its world-leading team to work together on the latest advancements in medicine, and take healthcare to unchartered territories.
Michael Uren's path took him from student, to visionary philanthropist, to being knighted in the 2016 New Year Honours list, and his enduring vision is paving the way for the future of groundbreaking medical research – back where his own journey started.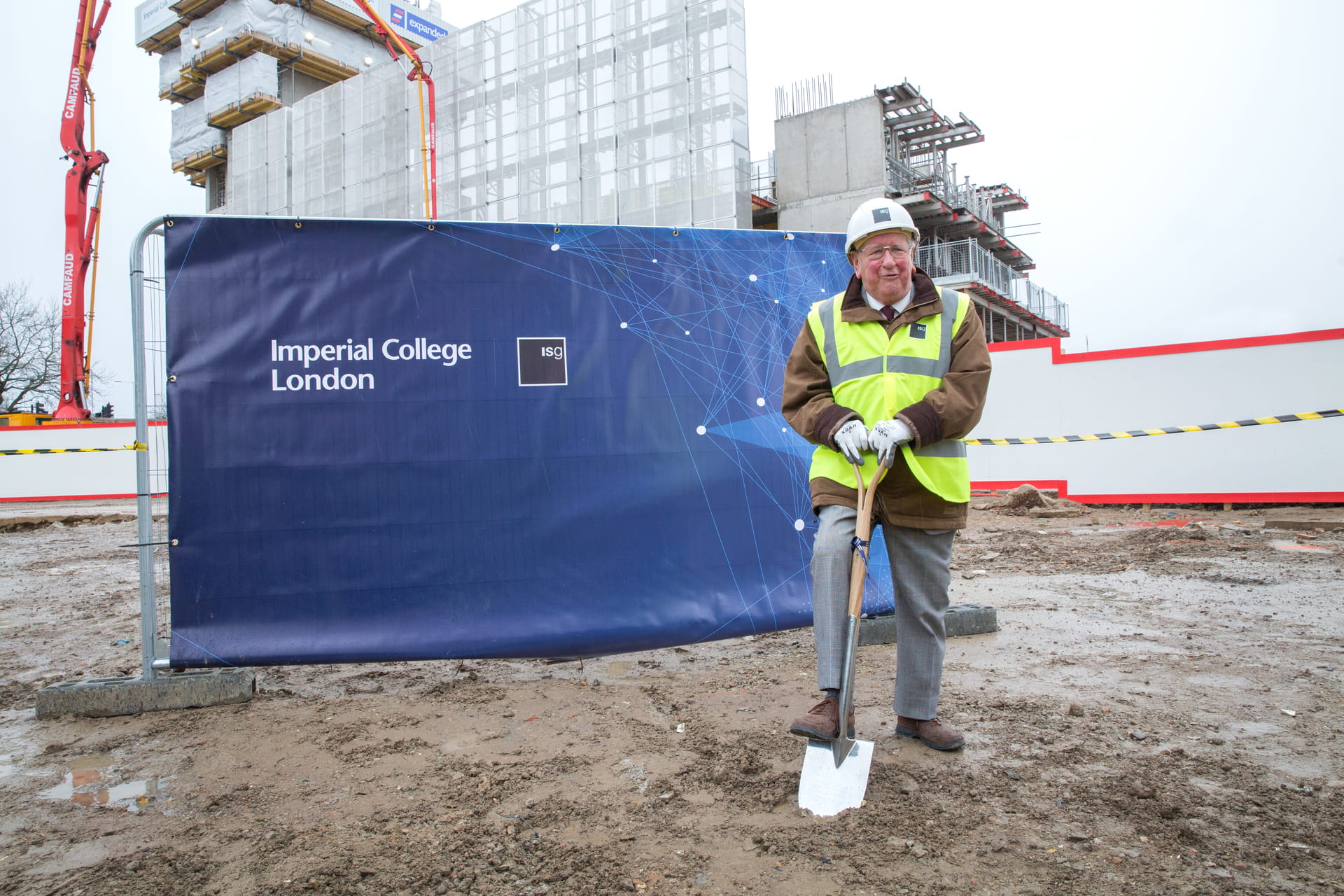 Photo credit: Imperial College London
The desire to leave a lasting footprint as proof that we made a difference is something we can all relate to – and it's something you'd immediately associate with Sir Michael Uren, whose legacy stands as testament to his vision and generosity.
As a proud alumnus, Sir Michael was an instrumental partner in Imperial College London's mission to pursue excellence in research and education. Known as one of the UK's most generous philanthropists, his support has spanned medical research, education, wildlife and the armed forces.
Sir Michael's tireless humanitarianism includes an extraordinary £40m donation towards the construction of the Sir Michael Uren Hub in White City, London – the largest-ever donation made to a London university by an alumnus, and one of the largest in the history of any UK higher education institution.
"I've felt honoured to work on a project that will change the world. It's not often you can say you have worked on a project that will leave a legacy for generations to come."

Neil O'Riordan, Project Director
Speaking at an event in 2014, Sir Michael said: "It is an honour for me to be able to help this great university. Medical teaching and research didn't exist at Imperial in my day, but it has evolved into an institution where the work between engineering and medicine is today one of its outstanding strengths. Imperial has always applied academic excellence for the greater good, and I am thrilled by the prospect of this research hub doing exactly that.
"What I find so exciting about this project is that Imperial is building one of the biggest research centres in the world within a few miles of the City of London, which itself has become the biggest financial centre in the world today. By putting the two together, what is quite clear is that the investment world will be watching for, and waiting for, the research and inventions which will create tomorrow's great companies."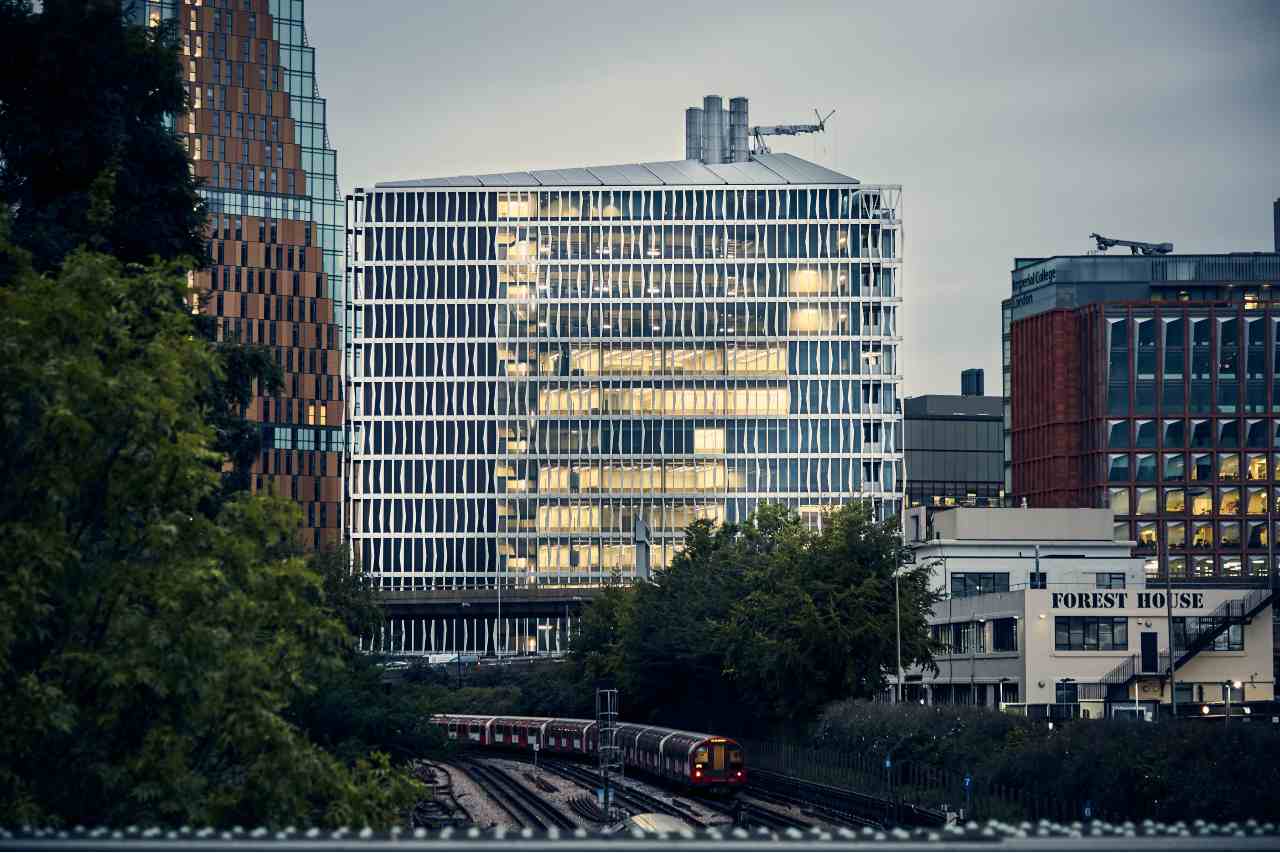 Cementing a legacy
It was Sir Michael's pioneering spirit that led him to found one of the UK's most renowned innovators in cement manufacturing.
Sir Michael's company, Civil and Marine Ltd, discovered a waste by-product of coal-fired power stations – ground granulated blast furnace slag (GGBS) – and harnessed its potential as a sustainable substitute for cement. GGBS retains the strength of concrete but produces a fifteenth of the emissions, helping to reduce carbon emissions at an important time for climate change.
In the spirit of legacy, it's this exact cement that has been used in the construction of the Sir Michael Uren Hub, delivered by ISG and which opened its doors in 2020. The building, which will be formally opened in 2021, brings together over 500 engineers, clinicians and scientists to develop new and affordable medical technologies. Researchers will combine the latest medical research and engineering to improve the treatment and diagnosis of diverse medical conditions, from finding ways to cure dementia, to creating bionic limbs.
Sir Michael's work in the world of concrete, as well the building's purpose as a medical research and healthcare hub, has also been reflected in the design of the building, says ISG's project director on the scheme, Neil O'Riordan.
"The building's concept design pays homage to Sir Michael Uren's passion for concrete," he says. "It provides a striking external façade designed to express the building's function and internally remains exposed, acting as a central showcase of the building's form and function."
Wrapped in 1,295 4.35m-long concrete fins, the unique glazed façade spans 13 floors of the arrow-shaped building. Careful planning with the concrete specialist and architect was needed to ensure the cantilevered façade could cope with additional wind loading, and fins were installed from inside the building before the cladding works took place. ISG's in-house Building Information Modelling (BIM) team fully co-ordinated all elements of the design and delivery process, and the software will now continue to manage the building throughout its lifetime.
The Sir Michael Uren Hub has been designed as a collaborative multi-disciplinary facility, and will provide space for Imperial's world-leading researchers, engineers, scientists and clinicians to drive the clinical translation of MedTech innovation through integrated clinical and imaging facilities, due to its close proximity to Hammersmith Hospital.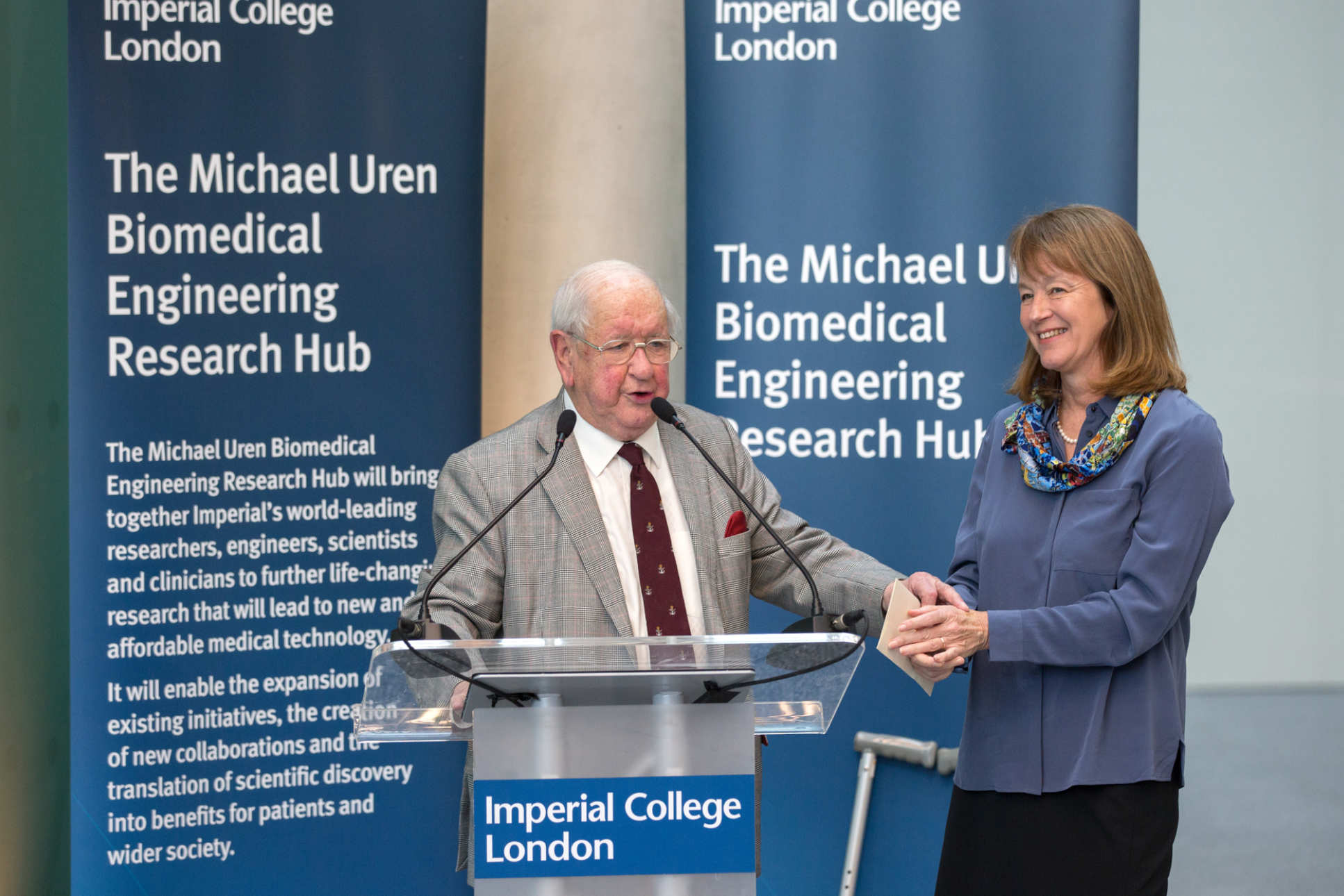 Photo credit: Imperial College London
The multi-use structure has increased floor-to-ceiling heights to 4.7m, and the extract system allows for positive or negative pressure zones to be set up anywhere for laboratory flexibility. A communal area landscaped during the build programme offers an open plaza and streetscape with semi-mature trees, water rill and textured granite paving.
Such a technical scheme situated in the heart of London – with a motorway and two other construction sites nearby – required close collaboration with the university, contractors and subcontractors. Regular communications kept the campus community informed, while noise-reducing barriers and low-noise-emitting plant helped manage disruption to the neighbouring scientific researchers and residents. Deliveries were managed effectively and holding areas prevented vehicles waiting on nearby roads.
A co-ordinated approach between Imperial, the architects and the ISG project team has enabled the construction of a world-class clinical research hub on a thriving academic campus. Achieving a BREEAM 'Excellent' environmental performance rating, the sustainable positives are clear, and will create a legacy for construction delivery at ISG, and across the construction industry. Awarded an exceptional Considerate Constructors Scheme (CCS) score of 45/50, the CCS inspector described his visit as 'one of the most impressive and enjoyable among the 920+ I have carried out'.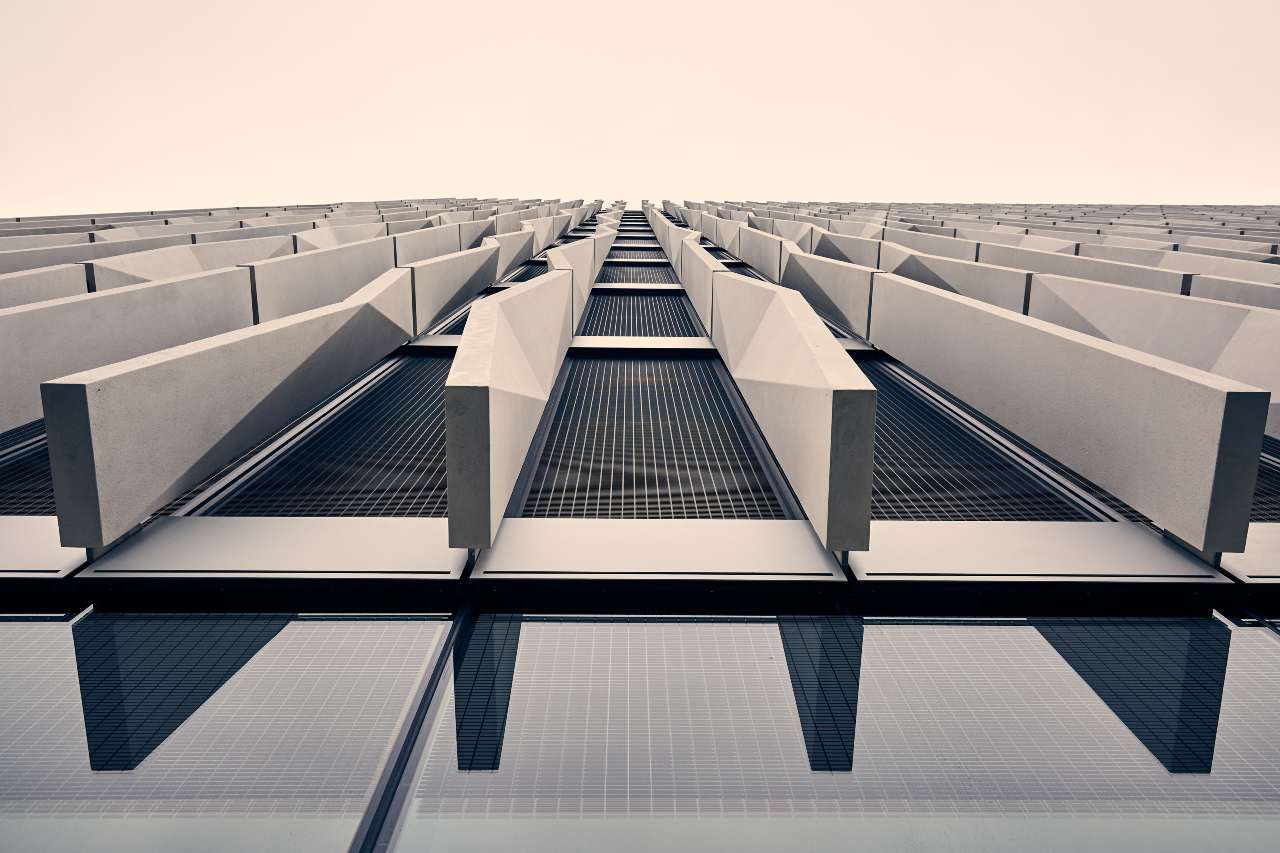 Neil O'Riordan shares his experience of working on such an illustrious project: ''I've felt honoured to work on a project that will change the world," he says. "It's not often you can say you have worked on a project that will leave a legacy for generations to come.
"The Sir Michael Uren Hub is a game-changing facility that will help us rise to some of society's greatest healthcare challenges. We will show what is possible when engineers, medics, policymakers and the public collaborate on solutions to these problems."

Professor Alice Gast, President, Imperial College London
Visually, the architecturally striking building not only brings White City to life, but also celebrates Sir Michael's extraordinary vision to make concrete more sustainable and less ordinary."
In a letter of thanks to ISG, Professor Alice Gast, President of Imperial College London, said: "We look forward to the transformative impact this building and the research generated within can have on society. At Imperial, we consider ourselves tremendously lucky to work with such an esteemed group of clinicians, researchers and engineers, and we are grateful to the talented staff at ISG who are delivering this project for us."
Speaking of Sir Michael Uren, Alice said: "I know that Sir Michael Uren would be very proud of what we have accomplished together, and all that will be achieved in his name in the future. We will all be thanking him for decades to come."
David Uren, Sir Michael Uren's son, concludes: "It has given us great pleasure that my dad's efforts in the industry have been redirected so positively to the Imperial he attended now 75 years back. Imperial, my father wishes you well, and urges you to continue leading the world."