Nobody understands the importance of long-term planning and resilience more than financial and professional service providers. The need to achieve more with less is a top priority, and property portfolios must work more efficiently everywhere from use of space to running costs.
Being at the top also requires gifted talent, so a new office space needs to do more – it needs to be a place capable of attracting the world's brightest and best to exciting new cities.
Quality workplaces designed to nurture your greatest asset – your people
Top talent is the greatest currency for leading financial and professional institutions the world over. Financial and professional service providers must maintain a balanced presence while enabling their people to work productively and efficiently, and there's no doubt the physical office environment has a huge role to play in facilitating this mix.
With the need to improve operational efficiency and create environments that appeal to diverse, multigenerational talent high on the agenda for many, creating spaces that deliver on these objectives can provide a genuine lever of competitive advantage. Our 'The Power of Place' research and insight report, which surveyed over 10,000 users of corporate office space, demonstrates the pivotal role quality workspace has to play in improving wellbeing, increasing productivity and promoting a sense of belonging.
Achieving the right blend between remote working, technology and high-quality space is key. We pride ourselves on delivering office spaces with enduring quality, starting at the design stage and ending with our aftercare package. Our teams understand that a cohesive work environment is key not just to inspiring and retaining people, but attracting even more talent through the doors.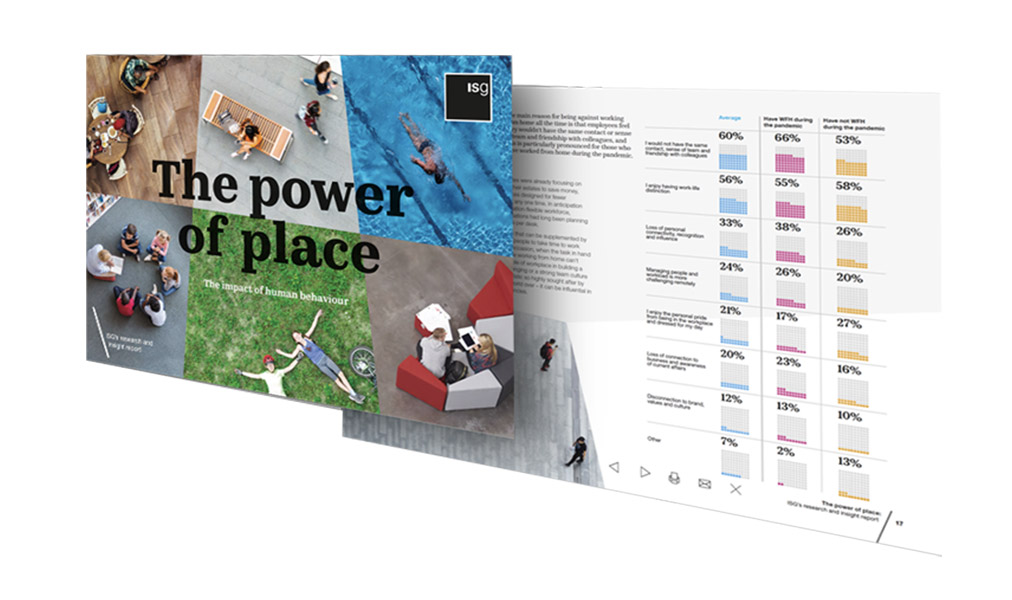 The Power of Place
ISG's research and insight report, 'The Power of Place', is available to download now.
The impact of shifts in human behaviour on workplace. What does it mean for businesses and their people in the new era?
Spaces that embody brand
With an award-winning approach to creating progressive office environments, we're changing perceptions – our corporate office spaces are built to the highest quality and offer clients with far-reaching interests consistency on a global scale.
Whether it's a major office move or reimagining an existing workplace, our expertise lies in our ability to tap into different markets and visualise environments that embody brand while matching day-to-day office requirements.
With an extensive client list that features a plethora of world class organisations, we're sensitive to individual need. Even in industries where data security is paramount, we're experienced in taking measures that meet strict operational requirements, taking time to understand confidentiality and create workspaces clients can be truly proud of while making sure their business doesn't slow down while we do it.
Secure, future-proofed office environments as second nature
Above all others, the financial and professional services industries have shown their resilience and ability to respond to global pressures. Progressive brands are always thinking of tomorrow and our office spaces are no different – they ensure everything is in place for businesses and their people to succeed into the future.
Enabling people under a common purpose is what the workspace is all about. As emphasis shifts to meeting the requirements of personal choice, the possibilities that smart buildings present are clear. Property portfolios need to work more efficiently across the board, from use of space to running costs, and adopting intelligent building technology could hold the key to unlocking these efficiency gains.
Our retrofit for one of the largest fintech companies in Europe involved a high degree of customisation, transforming the interior of the historic building into a high-quality, modern, sustainable office space containing electric bicycle charging stations and environmentally friendly LED lighting with integrated presence control.
Working for a leading global financial provider in Frankfurt, we delivered a smart and sustainable office environment with a comprehensive technical system including state-of-the-art audio-visual systems, virtual meeting installations and structured data cabling – offering many ways for people and businesses to feel more connected in the workplace.