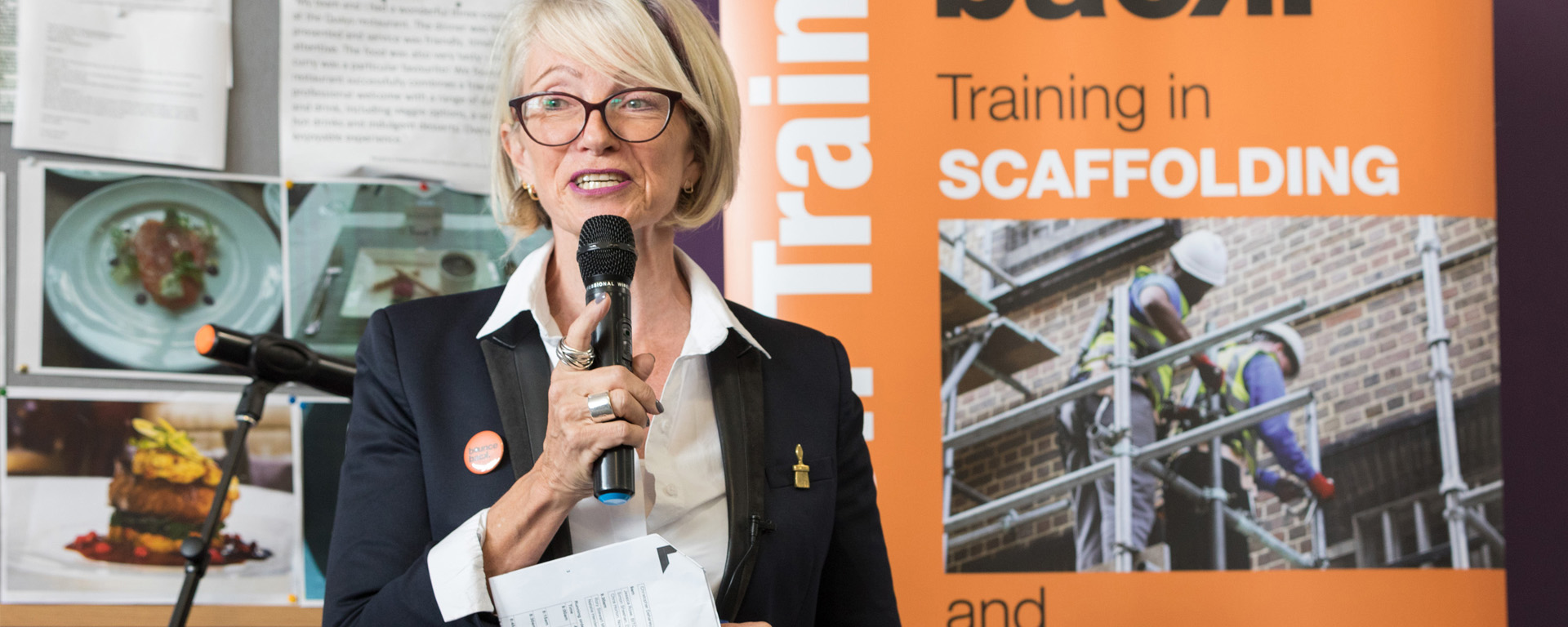 Fran is a trailblazer in an era where social value is increasingly taking its rightful place at the forefront of our minds. Before the Social Value Acts and UN Sustainable Development Goals of today had even been penned, she spotted that something needed to be done to support people coming out of prison, creating social enterprise – Bounce Back.
Seeing the human potential in prisons inspired Fran to make a change, moving away from her design company to dedicate herself to Bounce Back and social good. Utilising her 20 years of branding and design experience, she set about securing opportunities for people leaving prison to get back into work, painting and decorating offices and homes.
Bounce Back now operates in seven prisons across the UK, providing a range of work and training opportunities for prison leavers through its relationships with construction partners – supporters like ISG, which took on two people from the Bounce Back programme to be part of its project to create a brand-new Big Yellow storage facility in Bracknell.
With nearly 2,000 lives touched so far, Fran and her team are reigniting hope and helping people build brighter futures.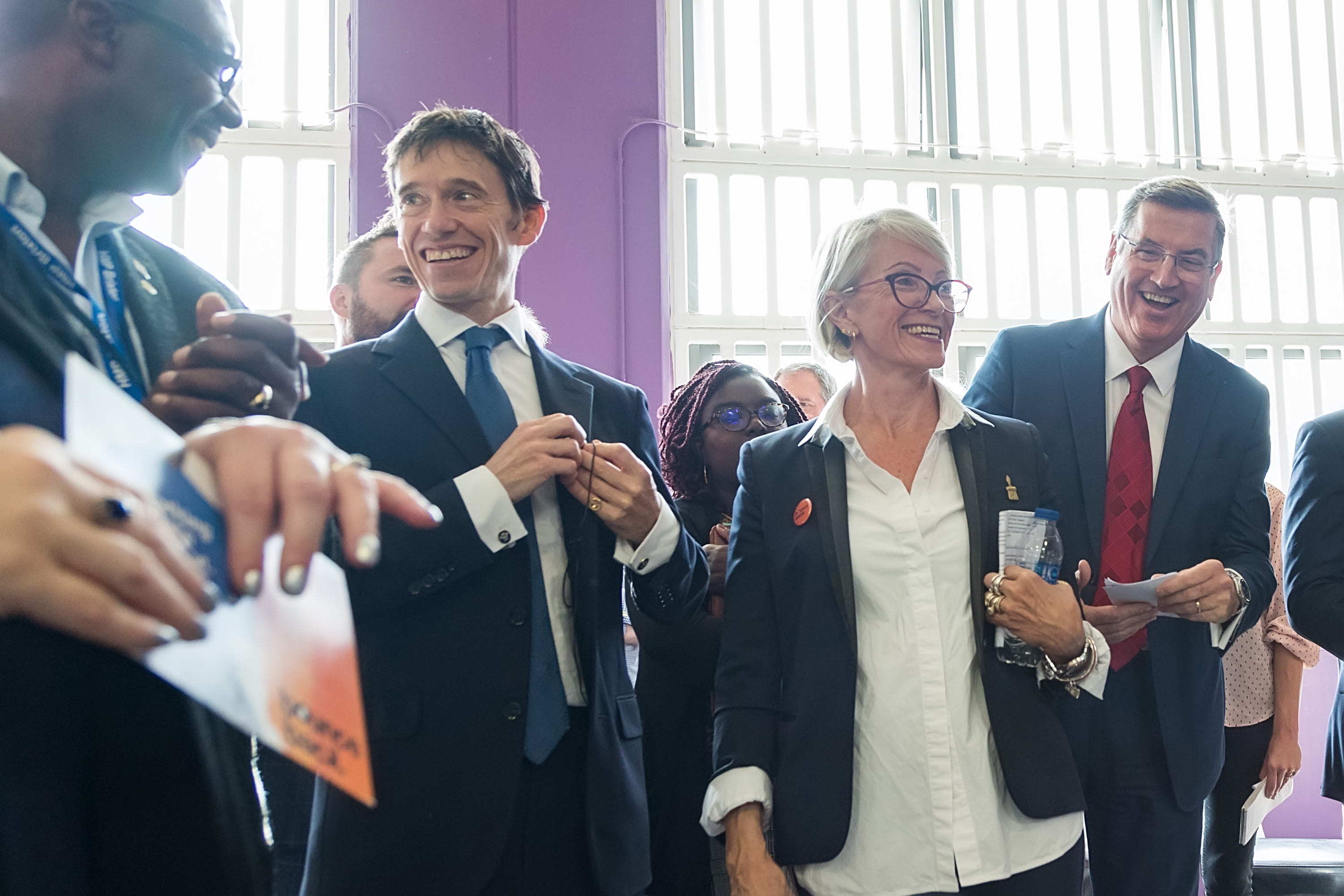 In the UK, one in 10 people holds a criminal conviction. Often, people leave prison with little money, no housing and no hope.

It's a reality which frequently leads to reoffending, costing the UK £18bn per year. Although six out of 10 employers exclude those with a criminal record, statistics show that a job reduces the likelihood of reoffending by 50%.

With over 80,000 people currently in prison in the UK, Fran Findlater saw a unique opportunity to bridge the gap between prison and employment. With a belief that skills training and a job are the catalyst for change, she founded Bounce Back, a social enterprise designed to reduce reoffending by providing employment opportunities and support for those integrating back into their communities.

Creating partnerships between employers and prisons has enabled Fran and her team to develop construction skills training programmes and offer employment opportunities – a proven method in reducing rates of reoffending. "We know that crime is a direct result of the impact of no social mobility – our aim is to address that, and give choice and opportunity," she explains.

ISG, which was introduced to Bounce Back through its partnership with Social Enterprise UK, first grasped the opportunity to partner with the initiative while working with Big Yellow – to transform an old BMW headquarters into a brand-new Big Yellow storage unit in Bracknell. Setting up its own foundation in 2018, Big Yellow committed to creating meaningful partnerships with charities that support those in need of a second chance – and in turn make a real difference in society.
"We feel proud to have been able to collaborate with the people and enterprises that promote inclusivity within the community; helping to reduce the growing skills and talent crisis prevalent in our own industry as much as it is in those we serve."




Barry Perkins, Director, UK Retail
Recognising the strength of ISG's partnership with Cardiff-based homelessness charity, The Wallich, it was the perfect fit for the Big Yellow site team to support Fran on her mission.
With giving something back to the community close to both Big Yellow and ISG's hearts, a natural partnership was formed. Working with Big Yellow, ISG put together a programme to offer two members of the Bounce Back team the opportunity to work on site and gain an insight into the day-to-day running of a construction project.
The project team connected with Bounce Back, working with two of its operatives during the handover week of the project. Exercising the skills learnt through Bounce Back's training programme, they supported the team by moving materials, working with trolley jacks and the site forklift, touching up low-level steels, breaking out concrete from the base of the steels, clearing site yards and helping to clean the Big Yellow storage unit.
Chris Flower, ISG's construction manager on the project, was initially unsure how to maximise the relationship, but, after working closely with the operatives on site, recognised how important and beneficial charities like Bounce Back truly are. "These guys are looking for a fresh start and are keen to work and learn their chosen trades," he said. "For me, this venture was so valuable, supported by both ISG and Big Yellow, and we hope to see a continued partnership going forward."
The operatives' hard work and talent was hugely beneficial in pulling the project over the line, and ensuring it was successfully handed over to the client on time.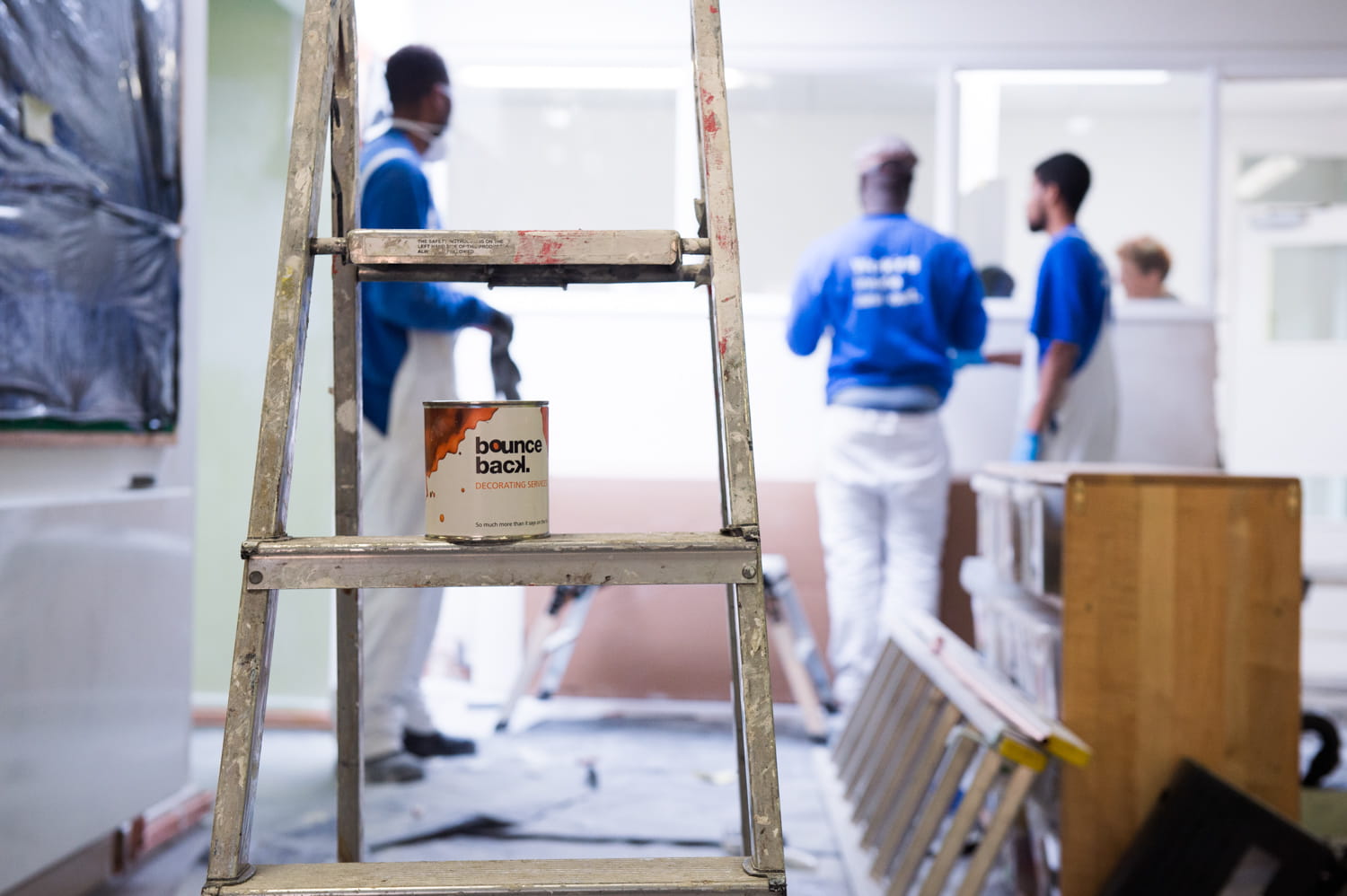 Aligned with ISG's 2021 sustainable business targets, social enterprises like Bounce Back enable us to commit more time to supporting the social and economic well-being of the communities we work in. Bringing to life ISG's value to 'Always care', site teams have joined forces with the Considerate Constructors Scheme to invest in, and collaborate with, community projects such as Fran's, to generate upskilling and drive diverse employment opportunities.
Commenting on ISG's collaborative work, director of its UK retail business, Barry Perkins, said: "ISG works hard to enhance and drive forward diversity and inclusion within our industry and the communities in which we work. We feel proud to have been able to collaborate with the people and enterprises that promote inclusivity within the community; helping to reduce the growing skills and talent crisis prevalent in our own industry as much as it is in those we serve."
"It is great that two organisations from different perspectives – Big Yellow and ISG – have been so united on one project. It's a perfect way to show what we can deliver together when we give our young prison leavers an opportunity."

Fran Findlater
Fran champions Bounce Back's business partners for helping the social enterprise to thrive: "Construction companies have been essential to participants learning in and out of prison, especially when they join us to present about progression and the future of construction," she says. ISG, along with many other funders and supporters, has been essential in supporting the growth and development of Bounce Back into the multi-purpose offering it is today; training prison leavers in scaffolding, dry lining, painting and decorating, in prisons and communities from Leeds to London.
Fran now dedicates a lot of her work to changing perceptions of people with a criminal conviction, showcasing their talent, enthusiasm and loyalty. She and the team believe in delivering a complete virtuous cycle with employers; offering real business support while working together to support the social mobility of people leaving prison. "We work hard to build trusting relationships with our business partners," she explains. "Employers often say to us, 'if it's okay with you, then it's okay with us!' and that's how quickly an attitude can change. The construction industry has frequently been open to this."
Talking about her experience working with ISG and Big Yellow, Fran said: "It is great that two organisations from different perspectives have been so united on one project. Big Yellow, which has been generously supporting us both in donations and with work, and ISG, which has offered our team an opportunity to work on the Big Yellow project. It's a perfect way to show what we can deliver together when we give our young prison leavers an opportunity."