Are you ready to Move for Charity? Sign up now!
ISG's dedicated Move for Charity website is now LIVE and taking registrations for our biggest fundraiser to date.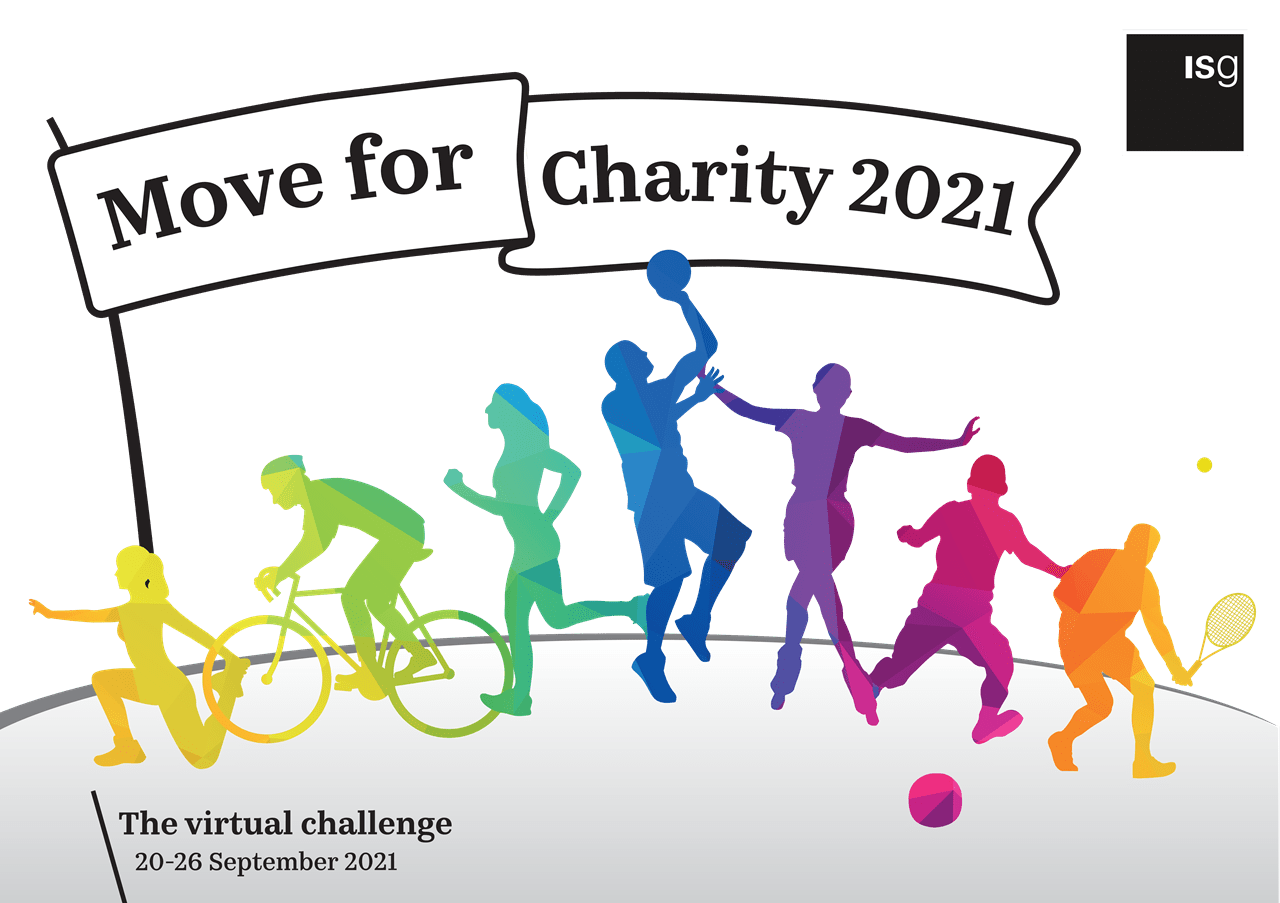 ISG's dedicated Move for Charity website is now LIVE and taking registrations for our biggest fundraiser to date.
The countdown has begun for our second annual global move challenge, Move for Charity, which takes place from Monday 20 to Sunday 26 September 2021 in support of Suicide Prevention and Awareness Month.
Much like Move for Charity in 2020, we're inviting our people around the world to get active in any way they like to raise important funds and awareness for our global mental health charities and partners.
This year we're also encouraging people to join together with loved ones, colleagues, clients and supply chain partners to clock as many miles as they can – and get as creative as they like while doing it.
Start moving!
The aim of the challenge is for our people around the world to clock as many miles as possible. Looking for ideas on how to get active with the people around you?

• Take a walk with a colleague during your lunch break or clock your miles during your commute
• Start a site team/office running club
• Grab some friends and set up a hiking or step challenge
• Set a challenge with friends, family or colleagues to travel a specific distance between you – how about the length of The Great Wall of China?
• Cycle to and from work, organise a social cycle challenge or host static bike spin-a-thons
• Sign up for a yoga or dance class
• Make a splash swimming in the sea or get your lengths in at a local pool.
However you choose to move, please remember to follow COVID-19 guidelines in your area.
How to get involved?
This year, we've created one Move for Charity website for all participants to take part. The new site includes individual and team leaderboards so you can track your progress, stay up-to-date with Move for Charity goings-on and get involved in some healthy competition. Just connect to the Strava app during the registration process and watch your miles tally up!
It's free to take part in Move for Charity this year – all we ask is that you set a minimum fundraising target of £100, but you can set your fundraising goal at whatever you like. The first 500 people that sign up will receive a free Move for Charity t-shirt (limited quantities and sizes available, and applicable in certain regions only) – so make sure you get in there fast!
Register to take part in Move for Charity here.
What will your hard-earnt funds go towards?
The money you raise will make a real impact on people's lives and mental wellbeing. Here's where we'll donate the Move for Charity funds in your region:
A huge thank you to everyone who has their sights set on taking on this year's challenge. We raised an incredible £100,000 last year, and with your help and support we're hoping that 2021 will see us set a new personal best.
So, how will you step up?
If you have any questions, please contact moveforcharity@isgltd.com.