Customer

Imperial College London

Completion Date

Summer 2018

Value

£61m

Form Of Contract

NEC 3 form of contract

Area

25,000sq m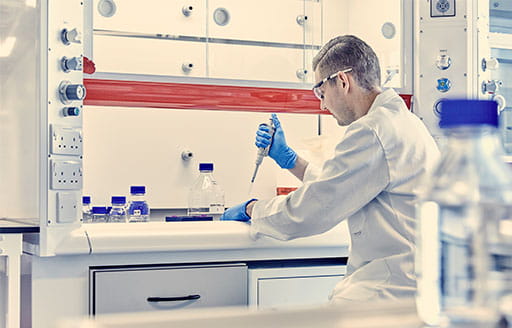 Introduction
Completed in 2018, our science and health division delivered a state-of-the-art design and build project for the new home of long-standing client, Imperial College London's world-renowned Department of Chemistry. The department occupies the Campus's new Molecular Sciences Research Hub, a nine-storey, circa 25,000 sq. metre structure. The flagship facility is set to encourage entrepreneurial thinking and help turn scientific discoveries into commercial products and services, that can be used to combat common challenges in energy, healthcare and sustainability.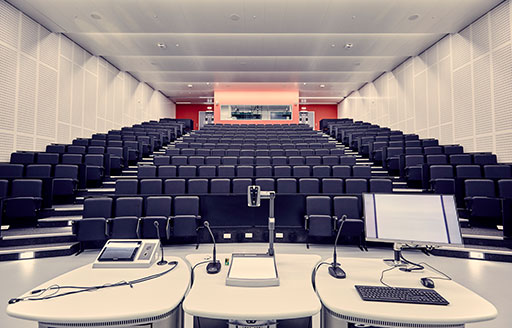 What we did
The building was originally designed as flexible office space, which ISG transformed into highly technical laboratory facilities. Open-plan laboratories occupy floors one to six, requiring the installation of 333 fume cupboards – one of Europe's most densely packed installations.
Large open-plan laboratories, and rooms for researchers to collaborate and write up experiments, occupy floors one to six of the Hub. This has helped create a flexible working environment that accommodates a much larger number of fume cupboards than a conventional lab – up to 78 per floor. Both basement levels also feature specialist laboratory space, and a high-specification lecture theatre where students can watch 3D projections of live chemical experiments.
The project was not without its challenges. During the preconstruction period, close co-ordination was needed with the client's project managers, Turner & Townsend, to develop a complex programme schedule for the Hub's highly technical fit out and build. Significant structural reinforcements required at basement level could then be completed, which enabled the project team to install the advanced Nuclear Magnetic Resonance (NMR) suite, as well as a suite of laser and low electric noise laboratories.
The shallow ceiling voids – measuring less than one metre high – and lack of service risers, also raised co-ordination issues for the vast amounts of ventilation ductwork and cables required. This was overcome using innovative 3D-modelling techniques, which combined new cloud data and architectural drawings to improve co-ordination and resolve spatial fit issues.
Bespoke and innovative design solutions were developed in collaboration with the Imperial College users and safety department, for specialist areas such as the High-Pressure Reactor Suite and Nanomaterials laboratories.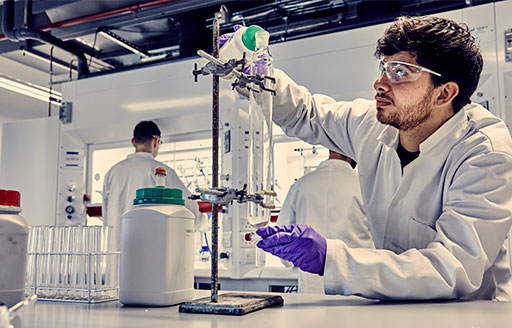 Converting commercial office into world-class laboratories  
The project builds on ISG's extensive experience delivering and repurposing commercial office space into world-class laboratories and research and development facilities. This is the latest in a legacy of over 30 projects successfully delivered for Imperial College London, from flagship new build and complex refurbishment schemes to smaller scale fit outs and individual laboratory projects.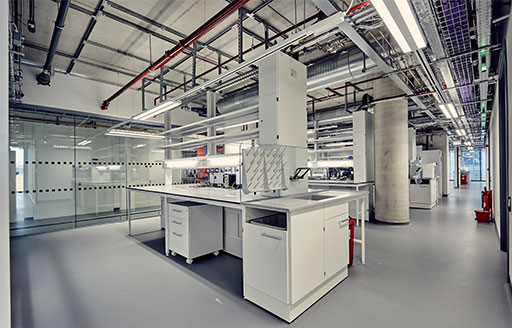 Making a difference
ISG worked within the limits of the existing structure, minimising alterations to reduce disruption and improve sustainability. In combination with energy-efficient heating, lighting and ventilation systems, the project has achieved a BREEAM Excellent environmental performance rating.
"The Molecular Sciences Research Hub is a highly flexible research facility that will play a key role in the development of Imperial's world-leading White City campus. Well done to David and the project team for their hard work in delivering an important facility that will help pioneer revolutionary research."

Lee Hutchinson, Managing Director of Science and Health