Customer

Schenker (Asia Pacific) Pte Ltd

Procurement Route

Direct

Completion Date

18 April 2022

Quantity Surveyor

Cushman & Wakefield

Form Of Contract

REDAS

Project Manager

Cushman & Wakefield

Structural Engineer

NA

Area

40,000 sq ft

Program Duration

17 weeks

Architect

KAIA Architects

ME Engineer

ISG
DB Schenker is a leading global logistics provider, supporting the global exchange of goods through land transport, worldwide air and ocean freight, contract logistics, and supply chain management. This year, the company is celebrating its 150th anniversary, with over 76,000 employees in about 2100 locations worldwide, and over 50 years of established presence in Singapore.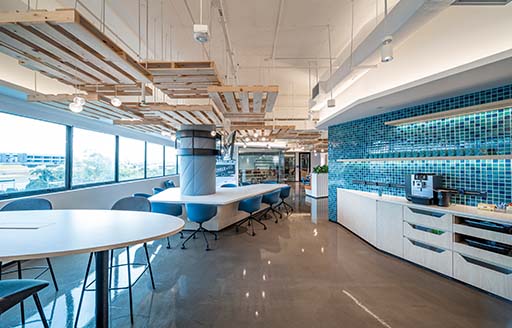 Introduction
With the original office last refurbished 10 years ago, ISG successfully completed the design and build of Schenker's Asia Pacific headquarters earlier this year, revolutionising the workplace with the latest smart office infrastructure, IT tools, and modern layout designed for multi-functionality and comfort, while bringing DB Schenker' history and visual identity to life in every corner of space - in less than 4 months.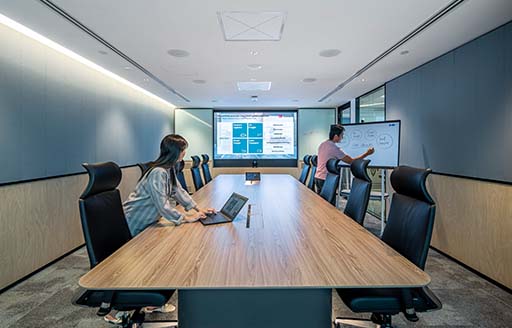 The project
Inspired by DB Schenker's core business in global logistics and the office location in an industrial park, the design theme of the interior fit-out was decidedly industrial, with everyday necessary items unique to the logistic and supply chain industry artfully placed across the office.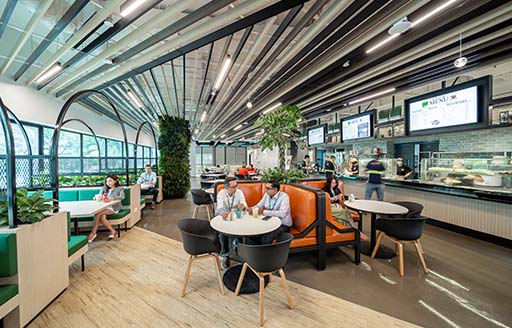 Bringing the workplace up on par with most modern offices for MNCs, the space was transformed from the staid offices of yesteryear to open collaborative spaces for idea generation and standup meetings, cosy discussion booths, private meeting rooms, a biophilic-design inspired cafeteria, open plan setting with HAT (height adjustable tables).
The spaces are balanced with splashes of greenery and warm colours to juxtapose and soften the industrial look and feel of the new office while paying homage to DB Schenker's
global sustainability approach
.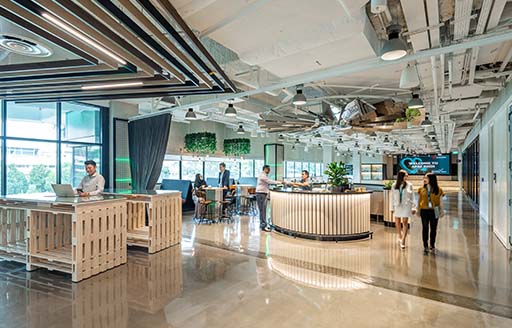 Interesting design features incorporated seamlessly into the interiors include suspended pallet-crate ceiling installations across levels, a stainless-steel turbine ceiling above the Level 2 innovation space, and ridged steel container walls that line the walkways of the newly transformed workplace, creating an unmistakably logistics-themed visual experience for visitors from the moment they pass through the secured entrance turnstiles.
"The transition towards new ways of working is a cultural shift that is taking place globally here at DB Schenker, and the opening of our newly renovated regional office is a significant milestone for us. We are very pleased with the finished office, which was completed on time. This is definitely a workplace that we can look forward to coming into every week."


Andrew Seah, Head of Communications APAC, and New Ways of Working (NWOW) Project Taskforce, DB Schenker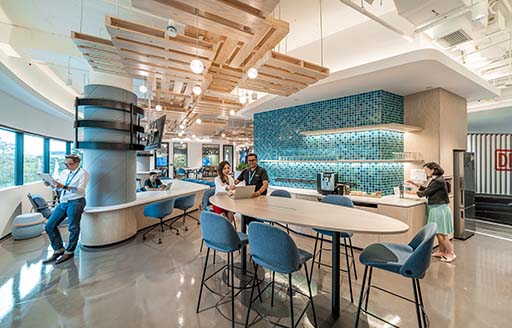 Challenges
Some of the challenges that surfaced during the demolition include hollow floor screeds and issues with missing core structural elements such as door lintels and supports. In addition, the floor finishes demanded a clear epoxy finish which needed a longer curing time and a detailed sequencing schedule with other trades. This required additional planning and coordination with the client and supply chain partners beyond the standard office floor finishes of carpet tiles.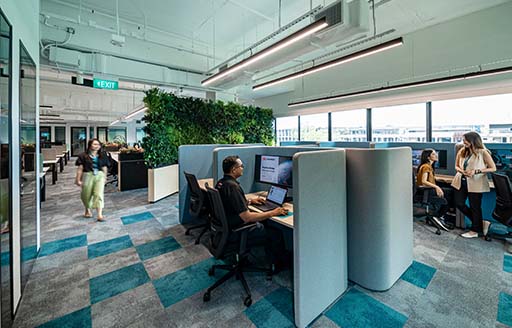 What we did
The team presented detailed findings and solutions via design workshops with various mock-ups and drawings to address and rectify the above issues encountered. Visits to the system furniture showroom were arranged with the client to provide an informative briefing on the functionality of HAT and other furniture, ensuring that the client is in the position to make informed decisions with no disruptions to the project timelines.