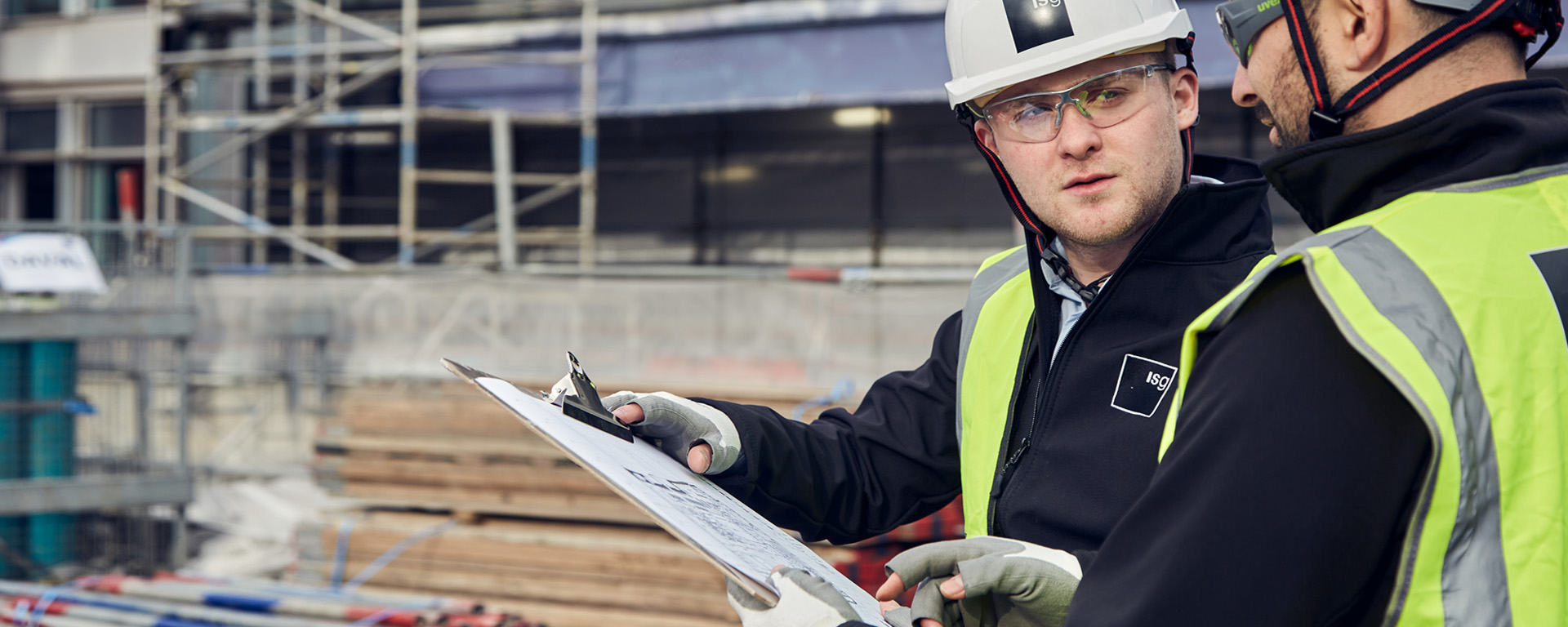 Alex wasn't sure what he wanted to do when he finished school. That all changed when he and his friends joined their local grammar school, giving Alex the opportunity to enrol on the Level 3 Applied Diploma in Professional Construction Practice (PCP). Construction wasn't a career Alex had considered before, but it was one he took advantage of after seeing the curriculum.
Developed by ISG and awarding organisation, WJEC, the PCP is a first-of-its-kind construction qualification equivalent in value to an A-level. The course offers young people the chance to become familiar with construction, introducing the skills, technologies and ethos needed for a career in the industry.
Alex charts his success on the course to the variety it brings and the chance to meet construction professionals – ISG attended classes every month, giving him the opportunity to tap into the expertise of its people.
"The course gave me great insight into construction and bridged the gap between class and practice, which helped start my career," he says. "The well-structured content and collaboration with ISG made progressing from class to site easier than I expected."
The course is clearly reaping rewards – Alex hasn't looked back since his foray in construction, and now works on site as an Apprentice Quantity Surveyor.
The Level 3 Applied Diploma in Professional Construction Practice (PCP) was one of three A-Levels Alex chose when he joined Wilmington Grammar School in Kent. With Business and History his accompanying subjects, he says the construction-based course encouraged his creative side and offered him a great opportunity – it was a subject he could see a future career in.
"I joined Wilmington because it was a grammar school in my local area and a couple of my friends were going there," he says. "Having seen the course advertised, I liked what I saw and decided to enrol. It led me to joining ISG and taking on a degree."
"The PCP course is both practical and classroom orientated. Other exams teach through textbook work, then test based on the ability to withhold information. PCP isn't like this – we did tests and coursework which means those who are more creative are able to show their ability just as well as students who test well. PCP is also very new , and construction is an ever-changing industry, so the course is dynamic."

Alex McCarthy, Apprentice Quantity Surveyor
Alex felt some subjects failed to inspire his creativity, but the PCP course gave him the opportunity to express himself.
"I felt subjects like History didn't bring my creativity out – it's very matter of fact, black and white," he explains. "The PCP was different. I wanted to explore my creative side and the course allowed me to do that. I also saw the future potential, which was a big factor for me."
"ISG came in every month," he continues. "It was great exposure to the different construction project teams and gave us a great platform to learn from the best. We also met apprentices who were coming to the end of their cycles. They were great as they really dug into their day-to-day work life."
"What really stood out for me was the responsibility ISG apprentices are given even at the early part of their careers. It showed me that the company  really trusts its workforce and wants them to succeed."

Alex McCarthy, Apprentice Quantity Surveyor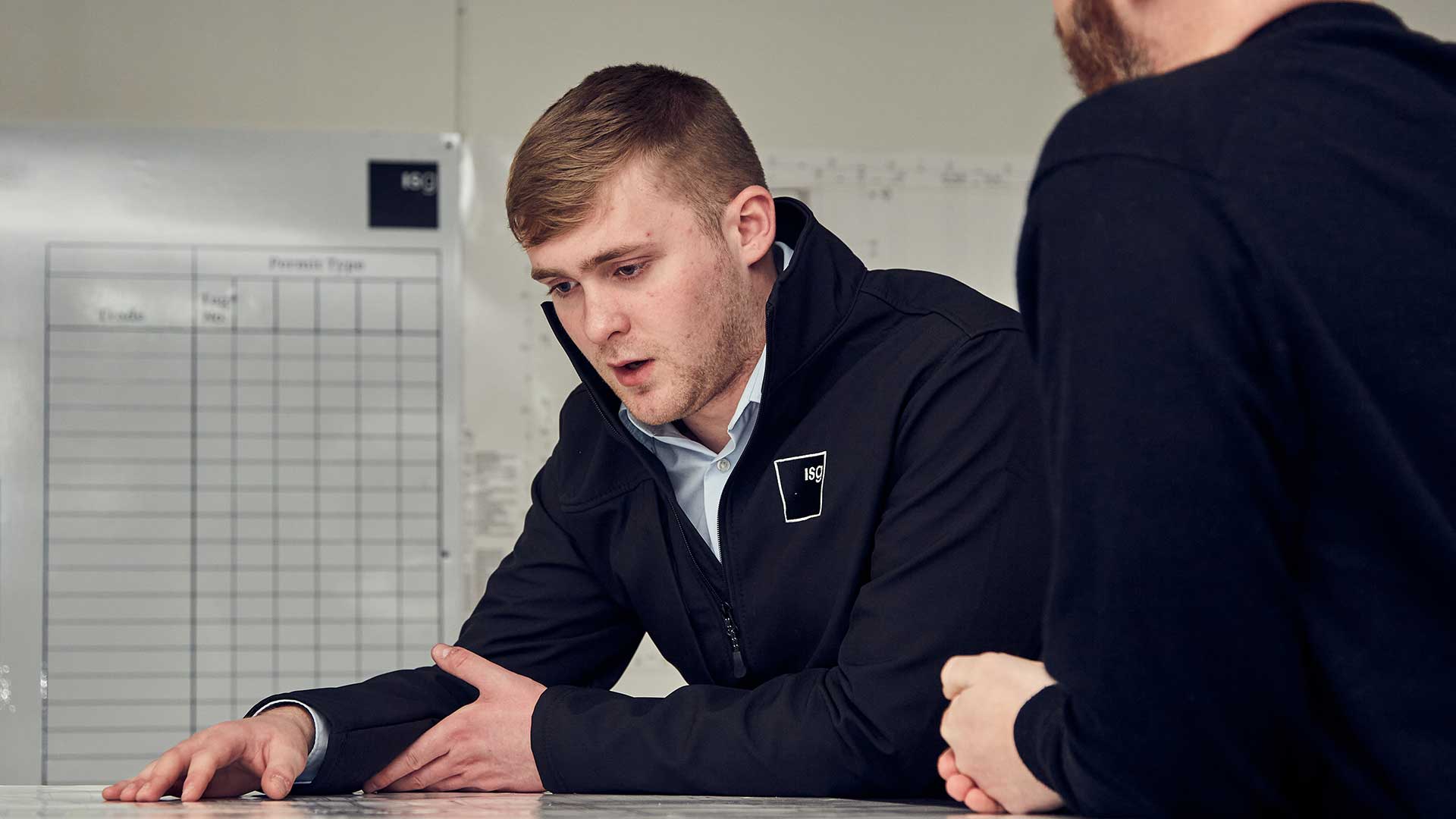 To deliver the places of tomorrow, the construction industry needs to attract more people with the right skills. That's why ISG joined forces with awarding organisation, WJEC, in 2018 to develop the UK's first Level 3 Applied Diploma in Professional Construction Practice (PCP). Equivalent in value to an A-level, the new qualification has proved to be a game-changer for the industry.
The course introduces young people to the standards, techniques, technologies and ethos behind a career in construction. Showcasing new and emerging technologies – such as Building Information Modelling (BIM), drones, artificial intelligence (AI) and virtual reality (VR) – in the built environment, the course is designed to provide students with a comprehensive framework of knowledge, understanding and skills.
One thing that stood out to Alex from the start was the huge emphasis on sustainability in construction, something that can perhaps go under the radar to people outside the industry. With a commitment to driving revolutionary change, ISG has pledged to deliver on several targets across a range of sustainability initiatives to come out of its unique Sustainable Buildings Monitor campaign.
To date, over 150 students are currently taking or have completed the PCP course, and ISG works with four schools nationally to actively deliver it. The course is starting to bear fruit – Alex is just one of the course's alumni to now be working in the industry.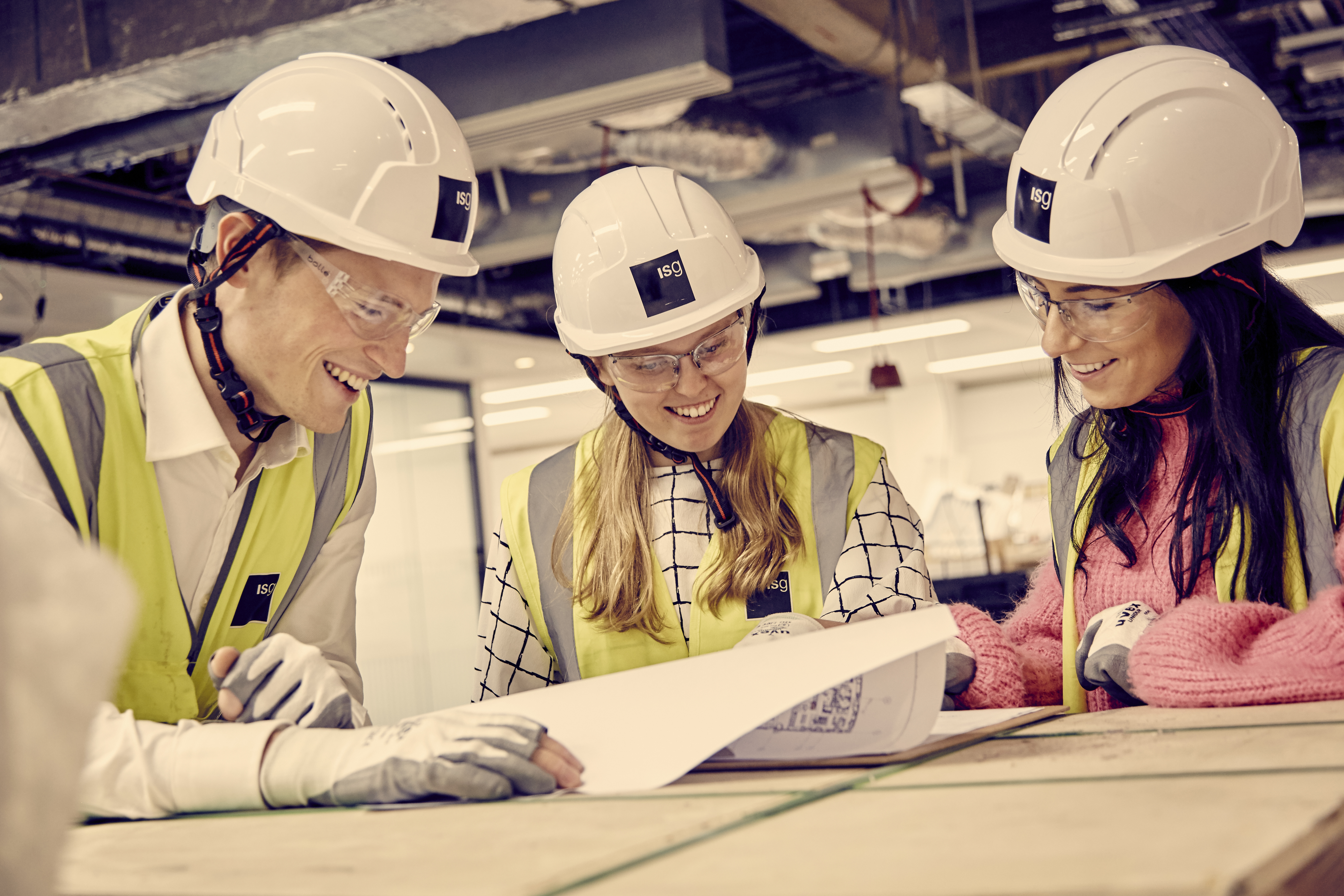 Early Careers. Start your journey.
Having successfully applied for ISG's Apprenticeship Programme as an apprentice quantity surveyor in January 2021, what resonated with Alex is the trust ISG puts in its people. Despite being new on site, he was instantly welcomed and given responsibilities he could only have imagined at this early stage of his career.
"What really stood out for me was the responsibility ISG apprentices are given even at the early part of their careers," he says. "It showed me that the company really trusts its workforce and wants them to succeed."
Alex now works full time, with his university day sandwiched between his working weeks. On site he has a large amount of responsibility – he now manages valuations and cost value reconciliations (CVRs) across two packages, work which is crucial in monitoring and measuring budget expenditure on construction projects.
Working alongside the site's quantity surveyor who supports him in his work, Alex is thriving on such a large project and finds it the perfect platform from which to learn.
Looking to the future, Alex would like to try and climb as high as possible and push himself as far as he can – for now though his focus is to complete his degree before moving on to a chartership. "It has been a great start to life here," he beams. "The company has been very welcoming, and the team has helped nurture my career – the work is challenging but it's very rewarding."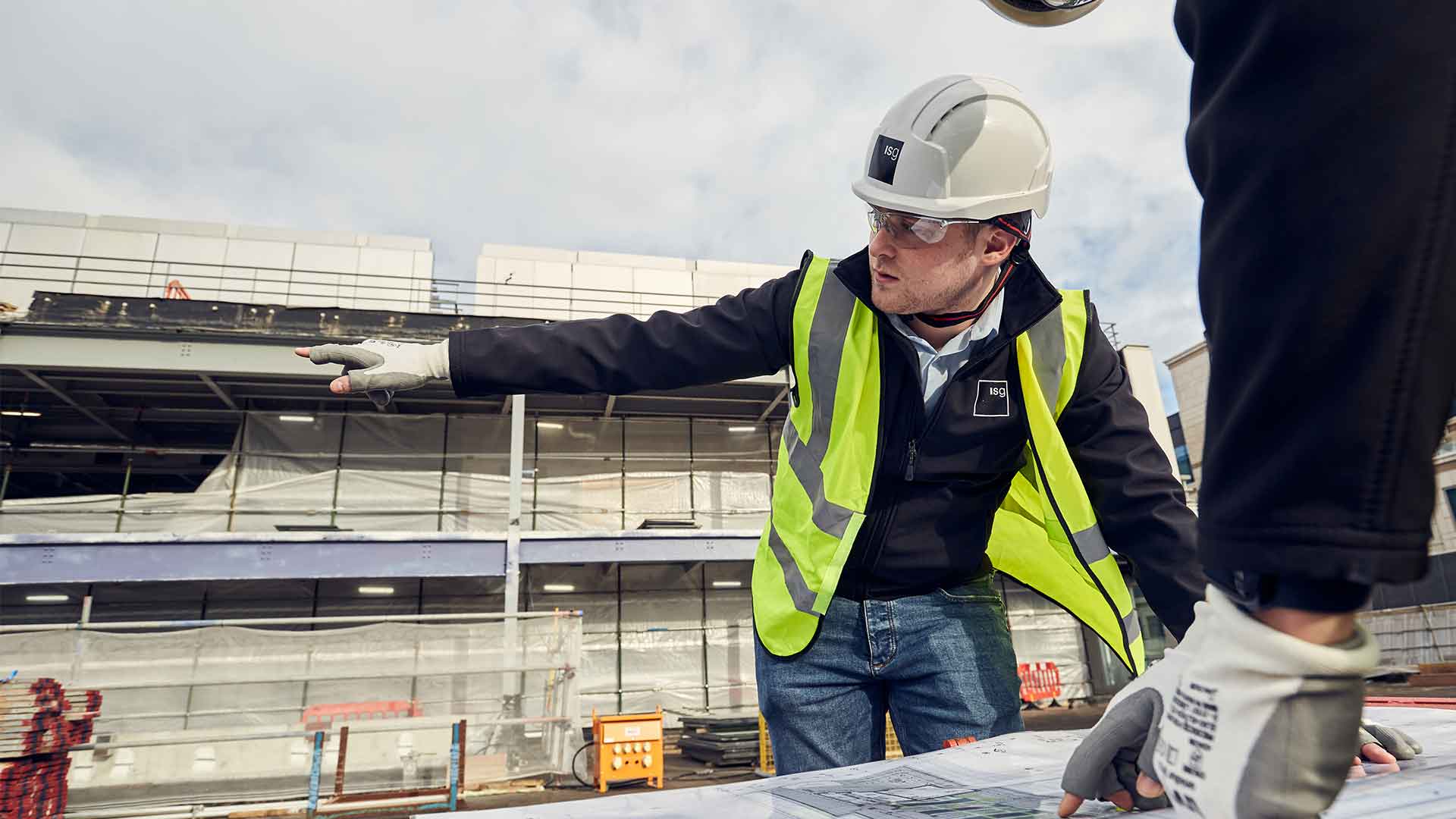 Like the people who have helped him, Alex is now helping those who are just starting out on their own journeys. Keen to lend his advice to young people considering joining ISG's apprenticeship scheme, Alex has been speaking to schools and colleges as part of National Apprenticeship Week – an initiative that brings together businesses and apprentices to shine a light on the positive impact apprenticeships have – as he passes on his experiences and shares the value in early careers programmes. This year's theme – 'Build the Future' – is something Alex strongly relates to, as he reflects on how his own apprenticeship is helping him develop the skills and knowledge he needs to build a rewarding career.
So, what advice would Alex give to those thinking of entering one of the educational construction pathways? "Preparation is vitally important," he says. "Make your time count when doing your coursework, listen closely to professors and take every opportunity offered to you."
It's safe to say Alex is enjoying every minute on site. He credits his success to the start he received on the PCP course – and now he is relishing his future with ISG.
National Apprenticeship Week 2022 takes place from Monday 7 February to Sunday 13 February.