The Project
The foundation for one of the very first TOG projects in Germany was a conceptual design which was provided by award-winning architect, dMFK, based in the United Kingdom. As general contractor, ISG managed the design and build aspects and coordinated overall renovation efforts within the existing building, amidst Frankfurt's business district and across from the iconic old opera house.
The project comprises an area of over 6,600 sq m allocated over seven story's, and accommodates office and dining spaces, kitchen and social lounging areas, break-out rooms, as well as sanitary facilities. One of the highlights of the building is without doubt the wooden paneled "Spanish Steps", underlining the open design and inviting and warm atmosphere of the complex. Another central aspect of the modernised workspace is the state-of-the-art building services and technology
Challenges
Due to the dense and highly frequented traffic situation around "Oper 46", ISG developed a detailed logistics concept to ensure a smooth logistics and construction process. Apart from the relatively short construction period of 11 months, the requirement to build in an existing context called for a meticulous and efficient process, in which the existing building had to be modernised and equipped with the latest technology. Full transparency, thorough work and inspection, and effective, regular communication between ISG and TOG were important success factors for the project.
With many parties involved in this project, ISG had to bring together professionals and specialist planners from different geographical locations – all of this in the midst of the corona virus outbreak. However, thanks to modern communication technology, ISG succeeded in connecting all experts who were key to the completion of the project.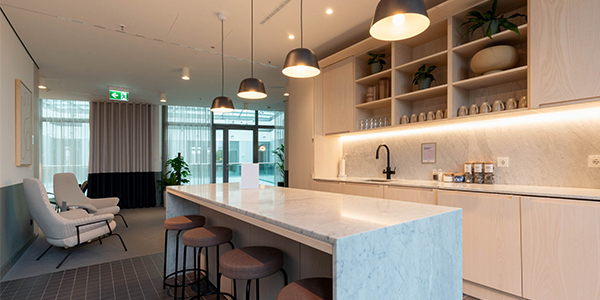 Added value
"Oper 46" not only provides a unique and state-of-the-art workspace, but also a friendly, inviting and highly communicative atmosphere which is underlined by the instalment of warm elements throughout the whole building.
By commissioning and coordinating the execution planning for the architecture and technical services works, as well as carrying out the demolition and fit out, ISG provided a significant contribution to making TOG's vision a reality.
Special features
With a distinguished size of approximately 7.7m x 9.3 m, the standout "Spanish Steps" (image 2) was a significant contribution to TOG's open office layout. A definitive eye- catcher of this latest office addition, the uniquely designed staircase offers a large seating area next to an in-house café, enticing people to relax and share their ideas.
In taking the importance of this core element to heart, ISG employed an experienced and trusted contractor from Luxembourg to ensure the highest quality standards and implement wood paneling that complemented the overall concept of this building. In addition to the "Spanish Stairs", the open and distinctive layout was rounded off with tailor-made glass partition walls and doors, which reinforced the unique office space and unmistakable design.
Cliente

The Office Group

Parcours d'approvisionnement

2 stage

Date d'achèvement

September 2020

Métreur

CHP

Valeur

€9,2m

Forme de contrat

bespoke

Chef de projet

Steadways

Ingénieur en structure

Stroh + Ernst

La région

6,630 sqm

Durée du programme

11 months

Architecte

Aukett + Heese

L' ingénieur

Hochtief