Agility, flexibility, certainty
Our experience delivering workplaces across a range of sectors has shown us that, to empower people, it's important to give them the tools and flexibility to be productive. Businesses looking to promote a sense of belonging, articulate vision and values, and inspire talent need forward-looking spaces that deliver the best value for their brand, people and communities.
We understand the need for brands to be as agile as their people – it means having the flexibility to adapt, no matter the circumstances. We design spaces that suit the needs of businesses and people, because it's people that provide the competitive advantage. Our high-tech, quality workplaces – whether office refurbishment, fit out or build – hit the right blend of attributes needed to support teams working inhouse, on the move or remotely.
Bureaux projects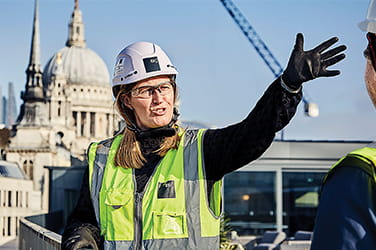 Hogan Lovells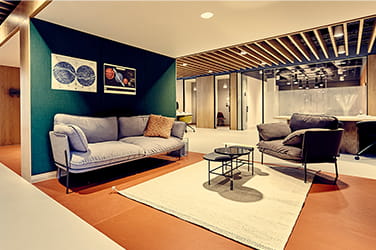 IWG, Global partnership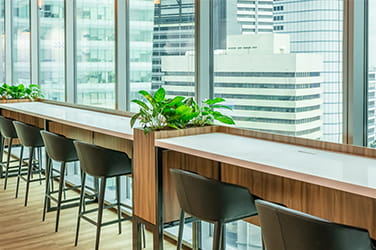 International financial services company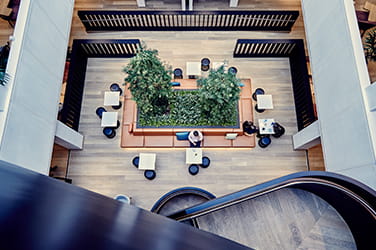 Corporate client
Aménagement de bureau : être fier de son entreprise
Grâce à notre savoir-faire international et à notre expertise locale, nous sommes l'une des principales entreprises d'aménagement intérieur au monde. Nous collaborons avec nos clients tout au long du projet, du premier contact jusqu'à la livraison et même au-delà. Nous sommes en mesure de créer des locaux qui incarnent des marques internationales comme l'International Workplace Group (IWG). Cette société met à disposition des espaces de travail aux multinationales et à plus de 2,5 millions de personnes dans le monde.
IWG a fait appel à notre équipe pour réaliser près de 40 aménagements de bureaux sur la planète. Nous avons livré en Allemagne, en Suisse, en France, au Royaume-Uni, en Malaisie ou encore à Singapour des lieux qui alimentent la créativité et la collaboration. Par la même occasion, ils permettent aux usagers et aux entreprises de s'épanouir. Nous avons été heureux d'apprendre que pour IWG le succès du projet reposait sur notre approche transparente, collaborative et simple. En outre, l'entreprise avait toute confiance dans notre équipe ainsi que dans nos relations.
Notre personnel joue un rôle à part entière dans ces « success-stories ». Son expérience et son expertise permettent d'instaurer des relations à l'épreuve du temps et des projets. Ainsi, nous continuons de les entretenir pour garantir de rester un pionnier de notre secteur.
« Nous vous remercions énormément pour votre professionnalisme lors de la réalisation de ce projet, ainsi que pour la collaboration agréable et votre fiabilité. Nous sommes impatients de retravailler ensemble sur de nouveaux projets dans un futur proche. »

Daniel C. Grimm, Development Director, Regus
Différents espaces de travail, un objectif : votre réussite
Nous aimons créer des locaux professionnels épanouissants, quelle que soit leur forme. Projets complexes et de grande envergure ou aménagements plus souples : tous soutiennent la compétitivité des entreprises. Au cours de nos partenariats avec des multinationales incontournables du monde de la finance, de la tech et du droit, nos projets d'aménagement de bureaux ont pris la forme d'espaces de travail adaptatifs ou de salles de vidéoconférence. Nous avons également conçu des lieux pour recharger ses batteries, comme des espaces de restauration ou des zones ludiques d'organisation d'évènements avec des coins-feu et des barbecues encastrés dans le sol.
Nous prenons notre rôle d'accélérateur d'affaires très au sérieux. Dans la mesure du possible, nos clients, les locataires ainsi que les usagers doivent continuer de vaquer à leurs occupations pendant que nous travaillons en parallèle. Cette stratégie nous a permis d'assurer en seulement 19 semaines l'aménagement de 1'600 m² de bureaux dans la Spaces Ambassador House de Zurich, nouvellement rénovée, alors que 20% du bâtiment était utilisé au moment du chantier. Nous faisons preuve d'enthousiasme pour ces grands projets. Ceci se retrouve également dans l'énergie que nous investissons afin de dessiner de petits espaces pour des start-ups ou des institutions publiques. Qu'il s'agisse d'aménager des bureaux pour une marque cherchant à séduire des talents ou pour un propriétaire désirant attirer de nouveaux locataires, nos équipes dynamiques puisent dans les besoins individuels pour aider nos clients à atteindre leur objectif.
Aménager des bureaux : porter la technologie et la durabilité au cœur de toute action
Leader du marché de l'aménagement de bureaux, nous demeurons l'acteur incontournable des projets extrêmement exigeants. Nous construisons et modernisons des :
•
unités de transformation.
Nous rénovons également des infrastructures essentielles comme les équipements de chauffage et de refroidissement. Pour nous, chaque projet de construction, de rénovation et de création doit refléter notre engagement envers un monde durable. Nous sommes passés experts des solutions énergétiques performantes, y compris des installations photovoltaïques. Nous sommes également adeptes de la circularité (la revalorisation des matériaux) : elle permet de conserver la valeur précieuse des matériaux au sein de la chaîne d'approvisionnement et de réduire les déchets. La réglementation ne nous oblige pas à le faire, mais nous désirons vraiment améliorer les conditions de travail pour le bien des personnes et de la planète.